… Says most berths not dredged since 1913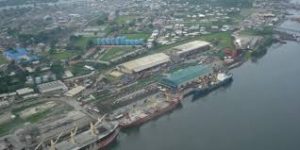 Mkpoikana Udoma
Port Harcourt — The Ports Terminal Operators Limited, PTOL, has raised the alarm that most berths in the Port Harcourt seaport have not been rehabilitated or dredged since the port was built in 1913.
To this end, the company has appealed to the
 the Nigerian Ports Authority and the Federal Government to dredge the port channels to pave the way for heavy vessels to call at the seaport.
PTOL and 
Bua Ports and Terminals Limited are the only terminal operators at Port Harcourt seaport.
Company Secretary, PTOL, Chioma Okwuanyi, lamented that the low channel was hindering vessels from routing to the terminals to discharge cargos, thereby affecting their revenues.
Okwuanyi, spoke when the House of Reps Committee on Privatisation and Commercialisation toured facilities at the NPA Rivers port complex,
as part of their oversight function.
He also decried the non-availability of truck holding bay at the port as promised by NPA under the concession agreement, saying it poses serious challenges to operations at the port. 
He said: "We will appeal to the Committee to assist by ensuring that berths 7 and 8 are dredged to 10.0 meter instead of 6.5meters restricting vessels calls to the terminal.
"We wish to state that the four berths – 5,6,7,8 have never been rehabilitated, neither have they been dredged since it was built in 1913 by the colonial masters till date.
"These berths are our only source of revenue, for us as  terminal operators and requires dredging to improve our output.
"This obligation is fundamental to the attainment of business and financial projections and it plays a significant role in the determination of the types and sizes of vessels that can call at our terminals."
The House of Reps Committee on Privatisation and Commercialisation during the visit, expressed the view that the privatisation of the Federal Government-owned companies was the best option to drive the nation's economy and boost revenue generation.
Vice Chairman of the Committee, Hon Victor Kolade Akinjo, opined that the private sector is better placed to do better things that the Federal Government finds difficult to do well.
Akinjo assured that the Committee will work with the regulators and operator to address some of the bottlenecks noticed in the sector.