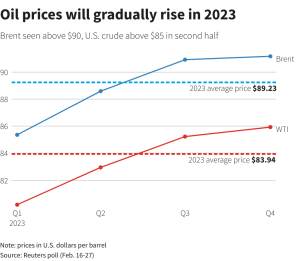 Bengaluru — As Russia trims its supply and China ramps up consumption, the oil market will tip into a deficit, lifting prices above $90 a barrel towards the second half of 2023, a Reuters poll showed on Tuesday.
A survey of 49 economists and analysts forecast Brent crude would average $89.23 a barrel this year, slipping from the $90.49 consensus in January, but still above current levels of around $83.
West Texas Intermediate (WTI) U.S. crude was projected to average $83.94 per barrel in 2023, below previous month's $85.40 forecast.
Brent prices are seen rising above $90 per barrel in the second half of the year after averaging around $85 in the first quarter and $88.60 in the second quarter on slower demand from key consuming regions such as Europe and the United States, some of the analysts said.
"The impact of the price cap for both crude and product (is) less than initially expected due to the emergence of substitution trades," said Florian Gruenberger, senior analyst at Kpler, referring to international sanctions aimed at confining Russian oil sales to an enforced low price.
Gruenberger expects a 600,000 barrel-per-day (bpd) year-on-year hit to Russian supply from lower domestic intake, weaker demand and slightly lower exports.
Next month, Russia is set to cut output by 500,000 bpd and further slash oil exports from its western ports by up to 25%, as mounting Western sanctions drain its revenues.
The world's second-largest oil exporter will seek to redirect its shipments of crude as well as refined products to countries such as China and India that have not sanctioned Moscow over its invasion of Ukraine.
"China will continue to scoop up Russian product at a discount," said Robert Yawger, energy futures strategist for Mizuho Bank.
The International Energy Agency sees China accounting for almost half of this year's 2 million bpd growth in global oil demand, which could overtake supply after the first half and push producers to reconsider their output policies.
However, analysts expected OPEC+, the Organization of the Petroleum Exporting Countries (OPEC) and allies including Russia, to stick to its output policy for now, betting on a tighter market with its eyes set on a rebound to $100 a barrel.
"OPEC+ will be in no hurry to loosen their taps and may only change course late in 2023 if demand surprises on the upside," said Suvro Sarkar, energy sector team lead at DBS Bank.
*Deep Vakil; Editing: Noah Browning & Shounak Dasgupta – Reuters
Follow us on twitter