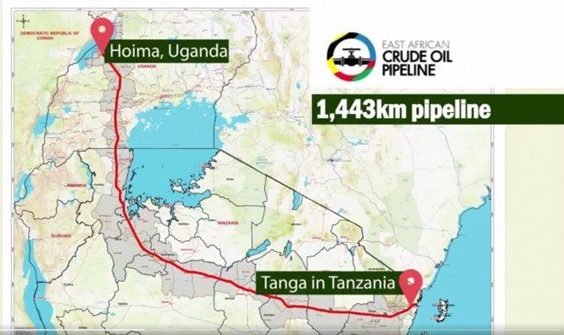 OpeOluwani Akintayo
Lagos — French oil company, TOTAL will partner CNOOC to flag off construction of the 1,443km long East African Crude Oil Pipeline, EACOP export pipeline system this month.
Palamagamba Kabudi, Tanzania's Foreign Affairs minister said construction of the $3.5Billion EACOP project which has been on the drawing board for close to a decade project would start in the second week of March 2021.
"While in France I held talks with TOTAL's director who assured me that all is set for the construction of the pipeline to kick off in the second week of next month," Kabudi said after a meeting with Nicolas Terraz, TOTAL's Vice President for E&P Africa.
Commercial quantities of crude oil were discovered in Uganda in 2006 with the field development plans already on the table before 2013.
Last September, Yoweri Museveni, President of Uganda, and that of Tanzania, John Magufuli, had agreed to hasten the implementation of the EACOP project, including the Tanzanian HGA with TOTAL.
To show progress of the project, TOTAL, after receiving certificates of approval for the Environment and Social Impact Assessment, ESIA from both Tanzanian and Ugandan authorities, had last November called for tenders for provision of site preparation and infrastructure works construction project management services for fields in the CA-1 block and northern panel LA-2 block.
When completed, the EACOP will be the world's longest heated crude oil pipeline. It will comprise a 24inch insulated buried pipeline, six pumping stations (two in Uganda and four in Tanzania), and end at a marine export terminal in Tanga.