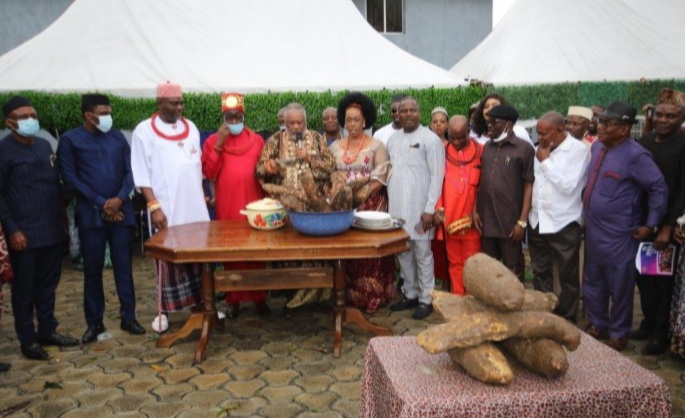 Mkpoikana Udoma
Port Harcourt — French oil giant, TotalEnergies, has assured that it will continue to partner with the people of Egi Kingdom, host communities of OML58, to ensure continuous industrial peace, harmony and sustainable rapid development of the communities and people.
This is as the oil firm joined Egi land, host communities of OML58 to celebrate the 2021 New Yam festival, Egwu-Ogba, in Egi, Ogba/Egbema/Ndoni Local Government Area of Rivers State.
Speaking, the Managing Director of TotalEnergies, Mike Sangster, assured that the company will continue to partner with the people of Egi Kingdom to ensure continuous industrial peace and harmony as well as a sustainable rapid development of our communities and people.
Sangster also said the company has concluded plans to commence the renegotiation of all its MoUs in advance, to ensure seamless transition of implementation by 2022.
He explained that going forward, TotalEnergies intend to build on past successes and streamline her future societal investment programs to embark on projects and programs that are community based, economically viable, with sustainable impact on its host communities.
"I have travelled and traversed through countries, regions, and communities in the course of my job and I have witnessed quite some cultural events and festivals.
"Today, I can conveniently confirm that indeed the Egi people have preserved one of the most elegant and prestigious cultural heritage the Egwu-Ogba festival, one of the best cultural identity in sub-Saharan Africa and world over
"In TotalEneraies, culture is recognized as part of our diversity and the celebration of the Egwu-Ogba festival has become part of our corporate calendar here in TEPNG and our participation in the event every year remains our delight.
"The glamour of this festival goes a long way to confirm that Egi land is blessed in farming, fishery, trading, culture, tradition, oil, gas, clay and above all, Egi is blessed with the good people we are seeing here today."
Sangster represented by the Executive Director, Port Harcourt District, Obi Imemba, commended the people of Egi land who have been in the frontline for the restoration and sustenance of the peaceful ambiance in Egi.
He also sought the support of the people, especially in the provision of an enabling environment in a consistent manner.
"TotalEnergies, through her Community Affairs, Projects, and Development Division, is curently deploying her new vision of ensuring that community projects and programs are made more impactful fo the catchment areas.
"To ensure this, we have put in place systems and processes to verify, validate and complete ongoing projects, and to encourage the MoU implementation Commiffees to be more functional and alive to their duties."
Also speaking, King of Egiland, H.R.M Prof. Anele Nwokoma, commended the management of TotalEnergies for their continuous support to Egiland.
Nwokoma called on the people of Egi to continue to provide a peaceful environment for business to thrive in the area.