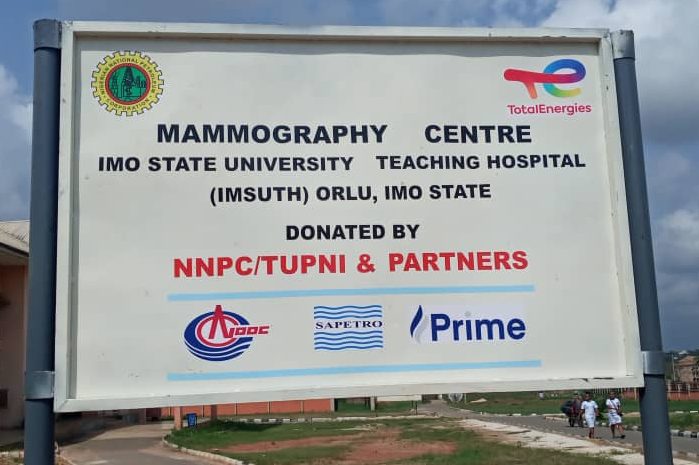 OpeOluwani Akintayo
Lagos — After a successful commissioning and handing over of a maternal and child referral centre at Baraki, Arochukwu, Abia State, last Friday, TotalEnergies and partners, have again granted the wish of the Imo State people, for a mammography centre with the donation and commissioning of a facility at Imo state Teaching Hospital, IMSUTH.
The state-of-the-art facility includes a main reception and waiting area of 21 persons sitting capacity, radiologist's office, mammography technicians' bay and changing room, two patients' changing rooms, clinical examination room, treatment room and others.
The treatment room houses state-of-the-art equipment, including the Bard Magnum Breast Lump Biopsy Set for image-guided breast lump biopsies, as well as the Senographe Pristina 3D equipment, which delivers 3D imaging at lowest radiation exposure with superior diagnostic accuracy in the detection of breast cancer. This equipment offers Digital Breast Tomosyntheses and Stereotaxy for enhanced image-guided biopsy and has capacity to process 120 examinations per day. It is ideal for screening exercises. The facility comes complete with a 40kva generator for stable power supply.
TotalEnergies and partners had last year, commissioned, and handed over a total of 10 projects across the country under batch 3 of its Corporate Social Responsibility, CSR initiative.
Dr. Ifeanyi Nwamba, Chief Medical Director, IMSUTH in his welcome address, said provision of the facility by TotalEnergies and partners, demonstrated deep commitment to the state.
"TotalEnergies and partners have proven that they are not here to exploit us but to contribute meaningfully to our lives", he said.
According to him, his 25 years of experience as a medical practitioner had revealed that Imo state has the highest number of young women from as low as 23 years, with full blown breast cancer cases.
"We have notified our women and daughters of the need to make use of the facility for early detection", he said.
In his address at the ceremony, Mike Sangster, Managing Director, TotalEnergies Upstream Companies in Nigeria, represented by Kenechi Esomeju, General Manager, CSR TotalEnergies EP Nigeria limited, said the projects were borne out of the need to mitigate the gaps in qualitative and technical education, maternal & child health, access to clean water, and women & youth empowerment.
According to her, the locations of the projects were carefully chosen for maximum impact, coming from a needs assessment carried out before the deployment.
"It is important to note that these projects were realised using the novel approach of "Project Managers.
"This approach which is new in the industry, permits the delivery of projects in remote and challenging environments while ensuring the use of local expertise and stakeholder engagement. I am very happy the pilot projects were successful. We are using the Return on Experience, to improve our processes and deliver our 2nd and 3rd Phases faster and better.
"As already mentioned, the project we are commissioning today is one of the several projects being deployed across the entire country. Unfortunately, because of the Covid-19 pandemic we could not be physically present with you today. However, we have adopted this efficient and effective remote commissioning strategy to ensure delivery of all completed projects. I thank our senior partners, NNPC, and our PSC partners, SAPETRO, PRIME and CNOOC, who have joined us in providing the means, the processes and the resources that enabled us to deploy these local development projects. I also thank our several stakeholders including the State & Local Governments, beneficiary institution and the Project Managers for their support. As we hand over the project to you today, we implore you to ensure its sustainable use to impact on the people positively. The sustainability barometer shall be seen during our Impact Assessment Exercise, when we will come back to check how this project has helped and improved the impact of the hospital and lives of the benefitting community," she said.
TotalEnergies partners include state oil firm, the NNPC, CNOOC, Prime 130 formerly Petrobras and Sapetro.
In 2016, TotalEnergies commenced its robust plan to deploy CSR Infrastructure developments across the country which resulted in a strategy to deliver 84 Infrastructure projects across the 6 geo-political zones in Nigeria.
In its 1st Phase, a total of 33 projects were launched in 2017 in the areas of Education, Health, Capacity Building and Access to Water across the country. In its 2nd Phase another 24 projects were launched in 2018 and yet another 27 projects were launched in 2019 in the 3rd Phase.
Of these 84 infrastructure projects, 39 have already been completed and commissioned from the earlier three phases and this year, a total of 14 have now been completed and will be commissioned in April. The remaining 31 are still under construction and will be commissioned on completion.
Bala Wunti, Group Generel Manager, National Petroleum Investment Management Services, NAPIMS, represented by Bunmi Lawson, said the NNPC will continue to consistently champion the implementation of Sustainable Community Development projects that will positively impact the lives of the citizens of this country.
"In NNPC, our vision for social intervention is to continue to operate in an ethical and sustainable manner and deal with the environment and social impacts occasioned by our activities. We pride ourselves in our slogan "we touch your lives in many positive ways" hence the approval for the deployment of various CSR projects by our operators across the country for maximum impact. NNPC along with its Partners have implemented various projects in the areas of education (building and equipping of schools/ classrooms, laboratories, donation of books, scholarships, Quiz competitions, etc.) skills acquisition and economic empowerment, healthcare, solar power and other infrastructural intervention projects. These projects were borne out of the need to mitigate the gaps in Health Care, Quality Education, Water, and Women & Youth Empowerment in line with the relevant Millennium Development Goals (MDG). NNPC and its Partners are socially responsible organisations committed to improving the livelihood of the citizens of our great country, Nigeria".
On behalf of the partners, Luc Vanson, General Manager, Prime 130, said the partners were proud to be part of such laudable initiatives.
The Traditional Ruler, Umunna, Orlu, represented by the Traditional Prime Minister, Onowu, expressed gratitude to TotalEnergies and its partners, and implored the management of IMSUTH to ensure sustainable use of the facility to impact the people positively.
Dr. Prosper Success Ohanwawa, Commissioner of Health for the state, said the facility will help in early detection which will in turn mitigate death cases arising from breast cancer.
 Follow us on twitter