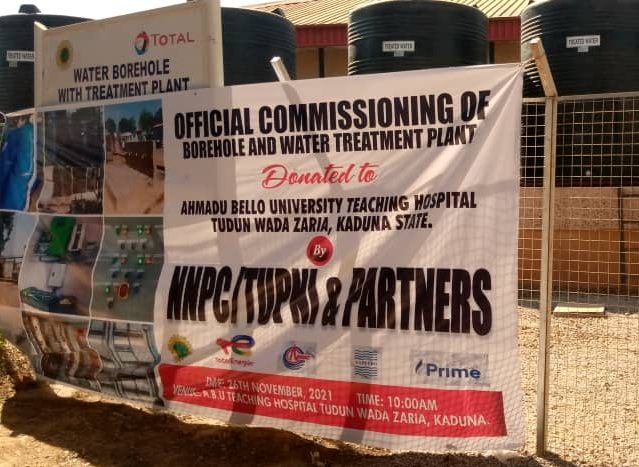 *Kaduna stream-dependent community
OpeOluwani Akintayo
Lagos — Towards achieving the United Nations Sustainable Development Goals, SDGs, goals of ensuring good health and well-being for all, and enhancing access to clean water; TotalEnergies and partners have provided two solar-powered treated borehole water for the Ahmadu Bello University Teaching Hospital, Tudun Wada Zaria, Kaduna and its environs.
The project commissioned and handed over today saw the hospital and nearby communities henceforth, gaining access to potable treated water, which would in turn reduce water borne diseases and improve their health and well-being.
The beneficiary community before now had depended on natural streams and rainwater.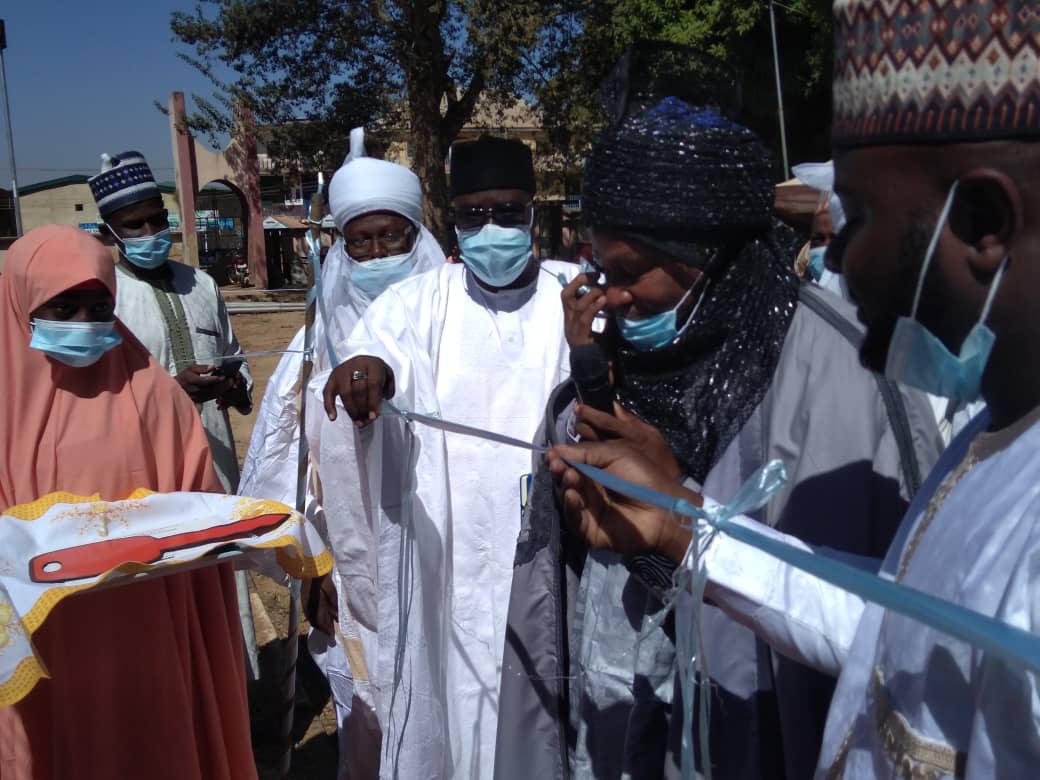 While delivering the keynote address on behalf of Managing Director, TotalEnergies Upstream Companies in Nigeria, Mike Sangster, Marayam Shehu, Managing Director, Administration, Deepwater District said the completion and commissioning of the project is in furtherance of the Corporate Social Responsibility initiatives of its deepwater operations.
"On behalf of the Management and Staff of TotalEnergies Upstream Nigeria Limited, our senior Partners, NNPC, and our OML 130 Partners: PRIME 130, SAPETRO & CNOOC, I warmly welcome you all to the commissioning and handover of this project. The completion and commissioning of this project is in furtherance of the Corporate Social Responsibility initiatives of our Deepwater Operations. These projects were borne out of the need to mitigate the gaps in Qualitative and Technical Education, Maternal & Child Health, Access to Clean Water, and Women & Youth Empowerment. They are in congruence with the related United Nations Sustainable Development Goals. The locations of these projects have also been very carefully chosen for maximum impact, coming from a Needs Assessment carried out before the deployment".
In 2016, TotalEnergies commenced its robust plan to deploy CSR Infrastructure developments across the country. In its 1 Phase, a total of 33 projects were launched in 2017 in the areas of Education, Health, Capacity Building and Access to Water across the country. Twenty-Eight projects have since been completed. In its 2nd Phase another 24 projects were launched in 2018 and yet another 27 projects were launched in 2019 in the 3rd Phase. Out of these 56 ongoing projects in the 1st, 2nd & 3rd Phases, 11 are currently being commissioned while 45 are still under construction, to be commission them on completion.
The project is a purpose built solar powered borehole with treatment plant, comprising Groundfos submersible pumps, powered directly by solar panels via solar charge controllers as power source as well as containerised aeration tank which ensures the protection of both treatment plant and quality of water from the borehole. It has a capacity of 40,000 litres of treated water in four 10,000 liters GPee tanks with eight dispensing points.
Bala Wunti, Group Generel Manager, National Petroleum Investment Management Services, NAPIMS, ably represented by Bunmi Lawson said NNPC will continue to consistently champion the implementation of Sustainable Community Development projects that will positively impact the lives of the citizens of this country.
"The completion and commissioning of this project in 2021, Corporate Social Responsibility initiatives of the Nigerian Government through its Oil and Gas sector. is in furtherance of the In NNPC, our vision for social intervention is to continue to operate in an ethical and sustainable manner and deal with the environment and social impacts occasioned by our activities. We pride ourselves in our slogan "we touch your lives in many positive ways" hence the approval for the deployment of various CSR projects by our operators across the country for maximum impact. NNPC along with its Partners have implemented various projects in the areas of education (building and equipping of schools/ classrooms, laboratories, donation of books, scholarships, Quiz competitions, etc.) skill acquisitions and economic empowerment, healthcare, solar power and other infrastructural intervention projects. These projects were borne out of the need to mitigate the gaps in Health Care, Quality Education, Water, and Women & Youth Empowerment in line with the relevant Millennium Development Goals (MDG). NNPC and its Partners are socially responsible organizations committed to improving the livelihood of the citizens of our great country, Nigeria", she said.
The borehole also includes two functional dispensable units- the first unit is situated inside the hospital, while the second is outside to serve the surrounding communities.
The solar panel and batteries powered facility will ensure constant renewable energy, and help to improve the environment through reduction in emission of greenhouse gases.
The facility has availed the communities the opportunity of 24 hours of World Health Organization standard drinkable water supply.
Receiving the project on behalf of the community, Wazirin Zazzau thanked TotalEnergies and partners, and promised to ensure adequate maintenance of the facility.