Kunle Kalejaye 18 November 2015, Sweetcrude, Lagos – Traditional rulers in Lagos State have cried out against the nefarious activities of pipeline vandals in the state as they emphasised that this was negatively affecting the country's economic well being.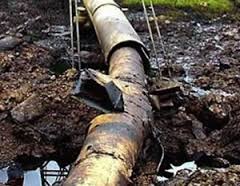 The traditional rulers who made the call during an interactive session with newsmen urged security agents in the state to live up to their duties by ensuring that the nefarious act was brought to an end while culprits found wanting are adequately dealt with within the law.
They explained that prior to the briefing, traditional rulers within the riverine areas of Amuwo Odofin Local Government Area of Lagos had a unanimous agreement to adopt a zero-tolerance policy against pipeline vandalism within their domain.
Oba Adegboye, explained that he and his colleagues within riverine communities in the local government area were ready to lend a helping hand to security agents in bringing pipeline vandalism to a halt.
In his words: " In my domain, we have Nigeria National Petroleum Corporation, NNPC,  pipeline that passes through the area down to Atlas Cove, and I have adopted a system that does not encourage vandalism. If you ask the security agents patrolling around our waterways, they can attest to this.
"There is no inhabitant of my community that will engage in such because they know that such person will be arrested and handed over to security operatives."
Meantime, Oba Akinwumi on his part said the security agents saddled with the responsibility of protecting the pipelines should have a close rapport with the traditional rulers within those communities.