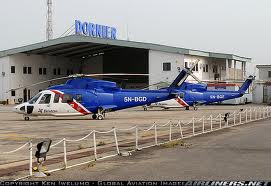 Lawani Mikairu & Daniel Eteghe
13 August 2012, Sweetcrude, LAGOS – MANAGING Director of Bristow Helicopters Nigeria Ltd, Captain. Akin Oni, says his company spends more than 6 million dollars annually on training of its staff, especially Nigerians.
This, according to him, is part of a conscious effort on the part of the company, which provides flight services to the Nigerian oil and gas sector, among others, to increase the skill of its workforce and make Nigerians take over a bulk of the management positions in the company.
Oni, who advocated for a speedy passage of the Petroleum Industry Bill, PIB, told journalists in Lagos: "In 2015, we hope to change at least 90 percent of our staff to become Nigerian both in the management level, engineers as well as in other departments.
"Currently, we are training 6 pilots in Florida in the USA and another 6 more pilots will be joining them in a next couple of weeks, so we are really training Nigerians to take over the running of Bristow Helicopters and that is what local or Nigerian content is all about"
He however stressed that there was a big gap in the area of man power development in the aviation industry as that was posing as a major challenge not only to Bristow Helicopters but to all players in the aviation industry. Asked about the cost of training, he said" we spend N250 thousand dollars to train one pilot so if you put those six together, we should be talking about 1.5 million dollars but basically we spend about 6 to 7 million dollars annually on training"
Captain Oni has also called on the Federal Government to speedily pass the Petroleum Industry Bill ,PIB, stressing that if passed into law,the bill will serve as a catalyst for growth in the aviation industry particularly in the area of helicopters operations in the country.
He said the state of helicopter operation has gone down in the country when compared to the past adding that when the PIB bill comes into full effect, a lot of off shore exploration will be carried out by the oil companies which will eventually boost helicopter operations in the sector.
He further said: "My prayer daily is that the PIB bill will be passed because with it comes a lot of opportunities for us and until that happens, I don't think the level of activities in the industry that we see in the past, that we saw in the early 2000 will come back into Nigeria.
"But, I have got to be positive about what I have seen now, we see green shoots hopefully this will grow and I think it will grow very rapidly and the fertiliser will be the PIB, so there is opportunity out there, there is opportunity coming and we know it is there, we are just praying that the PIB will be passed"
According to him, when the PIB is passed into law," there will be more exploration activities in the off shore region by most of the oil companies and of course they often make use of helicopters and ''that will enhance and boost our own business to a very large extend''.
Oni said that the company was committed towards delivering a qualitative service to its customers, he however urged the Federal Government to reduce the burden on airlines operators in the area of aviation taxes and levies in the country.