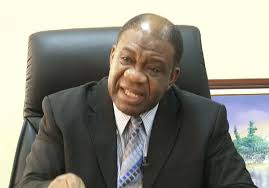 *Govt shops for $1bn annual investment to boost power
Oscarline Onwuemenyi
25 October 2014, Sweetcrude, ABUJA – The Minister of Power, Prof. Chinedu Nebo has described the transmission network as the weakest link in the nation's power supply chain, even as he denied plans by government to privatise the Transmission Company of Nigeria (TCN).
He therefore charged operators in the industry to focus attention on improving the transmission system even as government expects an increase in power generation as a result of recent gas-to-power initiatives undertaken by the administration.
Meanwhile, the Federal Government has said that the country needs an annual investment $1 billion over the next few years to fix its electrical transmission network adding that it was in discussion with a number of potential investors.
Prof. Nebo, who spoke recently at a meeting hosted by Nigeria Society of Engineers (NSE), described Nigeria's transmission infrastructure as obsolete and broken attributing it to vandalism and the neglect it suffered when the power sector was wholly managed by the government.
According to him, "It is expected that the transmission network will require a minimum investment of $1 billion (N165.55 billion) a year over the next few years to meet current demands and position itself towards global competitiveness."
He noted that, presently, Nigeria's state-owned Transmission Company which is responsible for the countrywide energy transmission has a transmission capacity of 5,500 megawatts, a little over 68 percent of its installed generation capacity of 8,000 megawatts, the government says it wants transmission capacity to exceed 6,000 megawatts by 2016.
The Federal government last year undertook a power liberalization scheme that saw some of the country's power stations sold to private investors to enable an optimization of the plants. While the move has, in a short period of time, led to some improvement in power generation, transmission- one of the power sectors not privatised- continues to limit the distribution, meaning a lot of the generated power is wasted.
Nebo said in September that there was massive private interest in buying the company with the Nigerian government considering offers of more than $20 billion for its assets. But he added that the sale was still a few years away.