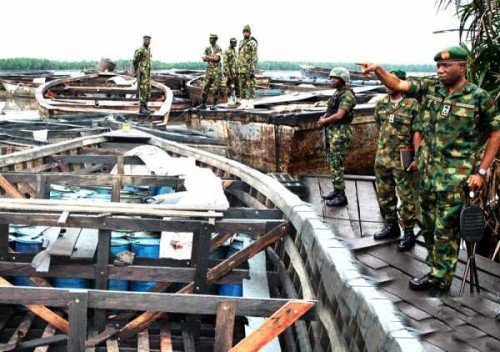 Mkpoikana Udoma
Port Harcourt — Cargo boat transporters in Port Harcourt have disagreed with the Nigerian Military over the firing of live bullets at a local cargo boat, allegedly conveying illegally refined petroleum products, along Bonny waterways in Rivers State.
This is as the Military had admitted that its combat helicopter opened fire at a local cargo boat, also known as Cotonou Boat, suspected to be conveying illegally refined petroleum products along the Bonny River, last Friday.
Director of Defence Information, Benjamin Olufemi Sawyerr, confirmed that the Air Component of the Joint Task Force, Operation Delta Safe, neutralised the cargo boat for carrying illegally refined oil products in large drums, with the escort of two speedboats.
Reacting to the statement from the Military, marine cargo transporters said the Military lied for alleging that the local cargo boat, which its combat helicopters shot at last Friday, was carrying illegally refined oil products.
A cargo boat transporter, Ndu Rodgers, said cargo transporters are afraid of resuming their business due to fears that they could be shot by the Military and labeled illegal oil bunkerers.
Rodgers maintained that the said boat which was shot at by the Military helicopters, was not conveying illegal products but food items, building materials, household items, and other consumables.
"As per the statement of the Military. It is just a false statement, that's just the truth; it's just a false statement.
"On that particular day, that the incident happened, the chopper that shot my men and the boat, we were not conveying anything like condensate, related to bunkering. We don't do such business."
He lamented that the incident was a threat to both their businesses and the lives of the operators, stressing that the workers were now afraid for their lives and were now reluctant to resume work.
The Defence Headquarters had maintained that the Military helicopter opened fire shot at the cargo boat while providing air support to ground troops engaged in clearance operations in the incident area.
"The Air Component of the Joint Task Force, Operation Delta Safe received reports from ground troops who were on clearance operations but encountered resistance at the point of encounter.
"On receiving the report a combat helicopter was despatched to provide close air support mission along the Cawthorne Channel."
The statement said the helicopter, upon accosting the Cotonou Boat which was being escorted by two speedboats on high speed, fired warning shots to dissuade the crew of the boat from hostile action but was fired at by the crew and had to engage it accordingly.
"The helicopter encountered an illegal oil bunkerers' boat popularly called Cotonou Boat. The boat which was being escorted by two speedboats was suspected to be carrying illegally refined oil products in large drums along the channel in the direction of OPDS patrol boats."
Follow us on twitter