Mkpoikana Udoma 18 September 2014, Sweetcrude, Calabar – A tanker loaded with Petroleum Motor Spirit, PMS, commonly known as petrol, was gutted by fire, leading to an explosion in which two people were killed, Wednesday afternoon in Calabar, the Cross River State capital.
The explosion occurred along the Murtala Muhammed Expressway, close to the Eburutu Army Barracks. at about 2pm, causing confusion in the heart of the city.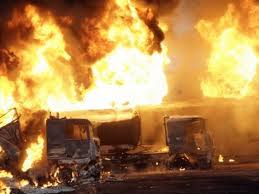 Vehicular movement along the road was at a stand-still for hours as the intensity of the blaze, which also spread to nearby buildings and vehicles. Pedestrian movement was also affected by the blaze. 

The two people killed in the inferno were the driver of the petrol tanker and his conductor. The driver was burnt to death on his seat while the conductor, on trying to jump out of the truck, was caught in the inferno.

Eye witnesses said fire fighters arrived the scene about an hour after the explosion occurred and had  spread to nearby buildings and two parked vehicles – an Audi 80 and Peugeot 505 – on the road.

More than 10 fire service trucks were sent from the Cross Rivers State Government, Calabar Free Trade Zone and the Nigeria Ports Authority to put out the inferno which lasted for over three hours.

An eyewitness, who pleaded anonymity, said the tanker driver tried to overtake another tanker that was loaded with kerosene at a very tight corner of the road when the accident occurred.

"A tanker loaded with fuel tried to overtake another with kerosene, and unfortunately, the former hit the latter from behind and both went off the road and fell. Immediately, the petrol tanker caught fire exploded. The driver and his conductor died at the spot," he said.

Another eye witness said the two tankers were trying to avoid some parked vehicles owned by a transport company that obstructed the free flow of traffic on the road and in the process, both trailers loaded with petroleum product collided which resulted in the explosion.

According to the witness, "some vehicles owned by a transport company, whose terminal is close to the accident scene, were parked by the sides of the road which narrowed the road and this caused the accident.
"Government has to do something about the parking arrangement of these vehicles. It is not right to park on the highway and obstruct other road users. Other road users should be free to use the road," he said