…As Kaduna Electric turns the heat on culprits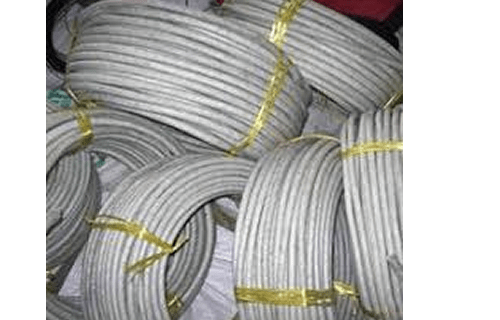 18 October 2017, Sweetcrude, Lagos – The Nigerian Police Force, Zaria Area Command in Kaduna State has successfully arrested, prosecuted and secured conviction for two vandals of electric conductors (wires), Dan'azumi Musa of Pambegua  village and Haladu Abubakar of Zuntu village all in Kubau Local Government Area of the state.
The convicts were arrested in Pambegua on the 26th September, 2017 after vandalising and carting away aluminium conductors worth over six hundred thousand naira on the Zaria-Soba 33KV power line.
The two suspects where later transferred to Zaria Area command on the 30thSeptember 2017 where further investigation led to the discovery of some of the stolen conductors in the houses of Danazumi Musa and Haladu Abubakar while the third co-conspirator Ribadu Skibo is still at large.
When arraigned before the Chief Magistrate Court, Kofar Fada, Zaria City on the 13th October, 2017 on charges of criminal conspiracy, vandalism of power supply infrastructure and dishonestly receiving stolen items, offences punishable under section 58, 312,302 of the penal code law of Kaduna State, the accused admitted committing the offences.
The Chief Magistrate Court convicted Danazumi Musa and Halidu Abubakar on the first count charge of conspiracy and sentenced them to six months imprisonment each with an option of N20,000:00 (twenty thousand naira) fine.
The Chief Magistrate Ummaru Bature also found first accused person, Danazumi Musa guilty on the second count charge of vandalism of power supply infrastructure and sentenced him to one year imprisonment with an option of fifty thousand naira fine.
The second accused person, Halidu Abubakar was further convicted on the third count charge of dishonestly receiving stolen items and sentenced him to one and a half years imprisonment with an option of N75,000 fine.
The Chief Magistrate also ordered the two convicts to pay the sum of N3000,000 each as compensation to Kaduna Electric for the electric cables and conductors damaged or face another two and half years jail terms. All sentences are to run concurrently.
The Head, Corporate Communications of Kaduna Electric, Abdulazeez Abdullahi while commenting on the incident, applauded the efforts of the Police in bringing the vandals to justice.
He commended the officers and men of the Zaria Area Command of the Police Force for "their commitment to bringing an end to the menace of vandalism in the area". He also commended the Kaduna State judiciary, especially the Chief Magistrate in Zaria City, Alhaji Ummaru Bature for "firmly standing on the side of justice"