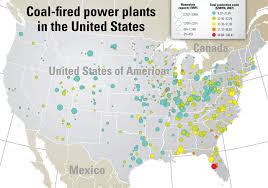 *To shut around 8,422 MW of coal-fired power, 1,500 MW of nuclear in 2019
OpeOluwani Akintayo
14 January 2019, Sweetcrude, Lagos — The United States under President Trump's administration has shut down in total, more than 23,400 megawatts, MW of coal-fired generation between 2017-2018, statistics gathered from a Reuters survey and the U.S. Energy Information Administration, EIA, has shown.
According to the data, SweetcrudeReports found that the 23,400MW shut down between President Trump's first two years was more than 14,900 MW shut down during former president Barack Obama's term in 2009-2012.
Since President Trump's assumption of office, he has reversed rules on climate changes enacted during his immediate predecessor's time to fulfill pledges to voters in states like West Virginia and Wyoming- while former president Obama tried to grow up the coal industry to keep a campaign promise to coal-mining states.
One megawatt can power about 1,000 U.S. homes.
The number of U.S. coal plants has continued to drop every year since coal capacity increased at just over 317,400 MW in 2011, and is expected to keep falling as consumers demand power from cleaner and less expensive sources of energy.
Consumers now want power from natural gas and renewable power like solar and wind- which has kept electric prices relatively low for years, making it uneconomic for generators to keep investing in older coal and nuclear plants.
Generators said they plan to shut around 8,422 MW of coal-fired power and 1,500 MW of nuclear in 2019 while adding 10,900 MW of wind, 8,200 MW of solar and 7,500 MW of gas, according to Reuters and EIA data.