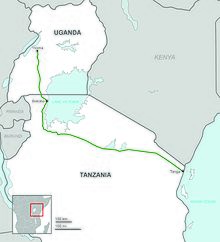 06 August 2017, Dar es Salaam — The Association of Oil and Gas Service Providers (ATOGS) on Wednesday called upon service providers in the oil and gas sector to show up and grab the emerging opportunities before, during and after the construction of Tanzania-Uganda crude oil pipeline expected to kick off very soon.
The $3.5 billion (Sh8 trillion) project, according to ATOGS vice chairman Abdulsamad Abdulrahim, is expected to create about 10,000 direct jobs in the two countries, which is good news for local suppliers.
"ATOGS wishes to assure the government that local suppliers have demonstrated capacity and readiness to deliver most of the services both technical and non-technical that will be required in this project," noted Mr Abdulrahim.
According to him, the services, including among others, construction, engineering services, procurement of materials and logistics.
Others are indirect services, which includes, accommodation, transport, facilities management, operation and maintenance, insurance, financial banking, legal, security services, catering and emergency services.
*Alex Malanga – The Citizen