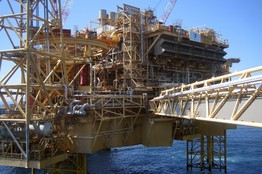 01 April 2013, LONDON – The U.K.'s net energy imports in 2012 rose to their highest level since 1976 as domestic oil and gas production fell sharply and coal imports soared, resulting in higher carbon dioxide emissions than the previous year, the Department of Energy and Climate Change said Thursday.
U.K. oil production was down 14.3% and natural gas output fell 14.1% in 2012, the DECC said in its quarterly statistical report. The sharp drop was largely due to shutdowns at the Elgin gas field, which suffered a leak, and maintenance at the large Buzzard oil field, the report said.
Net gas imports were barely changed on the year, largely because many power generators stopped burning the fuel in favor of cheaper coal, the report said. Coal use in power generation rose by 31%, driving a similar-sized increase in coal imports.
This rise in consumption of the most carbon-intensive fossil fuel, combined with colder weather, meant carbon dioxide emissions are also on track to be higher in 2012 than 2011, although only provisional estimates are currently available, the report said.
*James Herron, Dow Jones News Wires