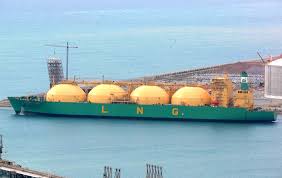 28 April 2014, News Wires – The crisis in Ukraine and Russia played an "elevated" role in the most recent approval of a US liquefied natural gas export project, and geopolitics will continue to influence decisions on how much LNG to export, US Energy Secretary Ernest Moniz said on Friday.
Moniz made the remarks at the annual conference of the US Export-Import Bank in Washington, on a panel with White House advisor John Podesta, Commerce Secretary Penny Pritzker and Agriculture Secretary Tom Vilsack, Reuters reported.
The energy secretary said the escalating crisis was a key factor behind the Energy Department's approval last month of exports from the planned Jordan Cove LNG project in Oregon, the second such authorisation this year.
The gap between the Jordan Cove approval and the previous one – Sempra's Cameron plant in Louisiana – was largely in line with the average interval of about eight weeks that has prevailed since Washington resumed issuing LNG export permits last summer, according to Reuters.
But Moniz suggested that the brewing geopolitical crisis in Europe will play a direct role in future approvals, which some companies hope could speed up the process.
While the shipments from Jordan Cove would not be directed at Europe, analysts and industry groups said any gas exports from the US could help increase flexibility in gas markets.
The next project in line for approval is also in Oregon by Leucadia National Corporation, Reuters said.
Moniz said the Ukraine-Russia crisis will weigh heavily at the upcoming G7 group of leading industrialised economies meeting of energy ministers to take place next month in Rome.
UK Energy Secretary Ed Davey said Britain would use that meeting to promote a global plan for developing alternative energy sources and supply networks to try to curb Russia's ability to wield its gas reserves as a geopolitical tool.
The G7 wants to prioritise energy security after Russia's annexation of the Ukrainian region of Crimea, and fears Moscow could cut off supplies to Ukraine if the dispute deepens.
Russia supplies around a third of Europe's gas, some 40% of which it ships through Ukraine.
While UK Prime Minister David Cameron has been calling for more hydraulic fracturing in Europe to provide a counterweight to the continent's reliance on Russia for natural gas, some countries like France and Bulgaria ban the practice.
Moniz told the audience at the Ex-Im Bank conference that this will be a central talking point at the G7 meeting.
"I've been having phone conversations and I would say cautiously there may be an openness to re-examining the fracking issue," he said.
– Upstream