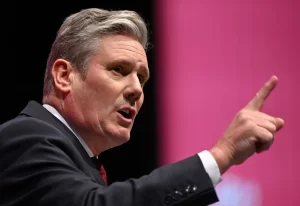 London — Britain's main opposition Labour Party on Monday pledged to turn the country into a clean energy superpower by 2030, saying it would overturn a ban on new onshore wind farms while respecting any oil and gas licences granted before the next election.
Labour, which opinion polls suggest is on course to win a national election expected next year, has tried to position itself as the only party which can spur economic growth by investing heavily in green technologies and jobs with plans to rival similar investments in the United States and the EU.
However, earlier this month it pared back its flagship pledge to spend 28 billion pounds ($36 billion) every year until the end of the decade on building up green industries, blaming high interest rates.
Labour's pledge to decarbonise the country's electricity system by 2030 will require a huge increase in renewable power such as wind and solar.
The proposal would mean rapidly weaning the country off fossil fuels such as gas, which accounted for almost 40% of the country's electricity last year, or adding technology to capture and store carbon emissions. Wind power was the second largest source providing around 27%.
On Monday, Labour leader Keir Starmer set out pledges for 100% clean and affordable power by 2030; to establish a publicly-owned energy company, GB Energy; to create a National Wealth Fund to invest in green technologies; and to upgrade poorly insulated homes.
"We can cut bills, create jobs and provide energy security for Britain," Starmer said in a speech in Edinburgh, adding that the plan would require government borrowing.
The party would also overturn the ban on new onshore wind farms which Labour says has added 5.1 billion pounds to energy bills, or 182 pounds per household, because Britain has been forced to turn to more expensive power.
MORE QUESTIONS
Starmer reiterated a pledge to stop new oil and gas exploration licences in the North Sea, but said any licenses granted before the next election, such as for Equinor's (EQNR.OL) proposed Rosebank field, would be respected.
He said that North Sea oil and gas would be part of the energy mix for "decades" but would have diminishing return, and that Labour had a credible plan to manage the transition.
Greenpeace said that the plans were "policies we desperately need" though a source at a North Sea oil and gas producer who declined to be named said "Starmer's baffling position only raises more questions than it answers."
"We do welcome Sir Keir Starmer's recognition of the critical role of oil and gas, and of the offshore industry," Offshore Energies UK David Whitehouse said, adding the proposed ban on new exploration licences is "too much too soon".
"The figures are clear.  The UK has 283 active oil and gas fields but 180 will shut down by 2030. If we don't replace them with new ones, then production will decline much faster than we can build low carbon replacements."
Starmer said the transition to green energy could be made to serve the interests of Scotland – where he aims to win back old Labour heartlands to secure a majority in the next election. He acknowledged the sensitivities of the energy shift in a part of Britain where North Sea oil supports many jobs.
"Deep down, we all know this has to happen eventually, and that the only question is when," he said.
"The moment for decisive action is now. If we wait until North Sea oil and gas runs out, the opportunities this change can bring for Scotland and your community will pass us by. And that would be a historic mistake."
Britain's ruling Conservative party has set an ambition for all the country's power to be generated by "clean energy" by 2035, but it is still issuing new oil and gas exploration licences.
The government has criticised Labour's plan to stop new oil and gas licences, saying it would leave the country needing to import oil and gas to make up the shortfall.
Reporting by Michael Holden and Alistair Smout, additional reporting by Susanna Twidale and Shadia Nasralla; editing by David Evans and Susan Fenton – Reuters