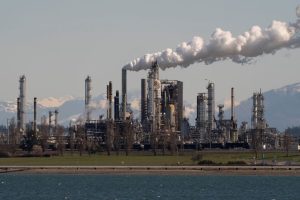 Houston — Top U.S. oil refiners will run their plants this quarter at up to 95% of their combined 17.9 million barrel-per-day capacity, according to executives and analysts, defying this summer's extreme heat to pump out more fuels.
The refining industry has been running at above 90% of capacity for more than a year on strong gasoline and diesel demand – and high profit margins.
The new forecasts will be challenged by extreme heat that has blanketed the main U.S. refining hub on the Gulf Coast this summer, contributing to scattered outages, analysts said.
Marathon Petroleum (MPC.N), the largest refiner with 13 processing plants that provide 16% of U.S. refining throughput, aims to run at 94% of its combined 2.9 million barrels per day (bpd) capacity in the third quarter, executives said last week.
The second-largest U.S. refiner, Valero Energy (VLO.N), aims to process at up to 95% of its 3 million-bpd capacity.
Among smaller refiners, Par Pacific (PARR.N) aims to operate at 92% of its capacity, and HF Sinclair (DINO.N) is targeting 94% of crude oil throughput, officials said.
"We continue to hear calls for higher refining utilization and see a market supported by low inventories and sustained consumer demand," PBF Energy (PBF.N) Chairman Thomas Nibley told investors on its second-quarter earnings call.
U.S. refinery rates rose last week to just under 94% of total capacity, and averaged around 93.6% in the quarter so far, compared with 92.8% between July and September last year, according to government data.
Meanwhile, stockpiles of gasoline and distillates, which include heating oil and diesel, fell sharply last week and were respectively 7% and 17% below the five-year average for this time of year.
HEAT, HURRICANE RISKS
PBF did not disclose its goal, but Nibley said demand is "continuing the call for high utilization."
Phillips 66 (PSX.N) laid out plans to run its U.S. refineries this quarter in the "mid-90s%" rates.
Neither oil majors Chevron (CVX.N) nor Exxon Mobil (XOM.N) disclose run rates.
This summer's extreme heat and the move deeper into peak hurricane season could cut into production targets, said Andrew Lipow, president of refinery operations experts Lipow Oil Associates.
"I would expect the refiners plan to run full out to the extent it's possible to do so," Lipow said.
The hurricane-prone Gulf Coast region will carry much of the processing load this quarter as refineries in the upper Midwest and Rocky Mountain regions will cut back production for planned overhauls, said John Auers, managing director of refined fuels analytics.
*Erwin Seba, editing: Marguerita Choy – Reuters
Follow us on twitter