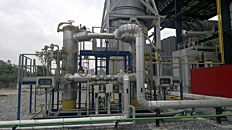 16 April 2014, News Wires – US environmental regulators made a move on Tuesday towards a broader strategy to address climate change, releasing a series of technical papers that will inform how or if the government will limit methane emissions from oil and gas companies.
The five papers released on Tuesday come on the heels of the White House's announcement last month of a plan to reduce methane emissions through incentive-based programmes.
Experts will review the papers and make recommendations to the Environmental Protection Agency on how to proceed with methane regulations. The EPA will also solicit input from the public.
Industry groups have resisted the move for regulations on methane, saying oil and gas companies are already taking steps to reduce emissions.
The papers discuss emissions of methane and volatile organic compounds from compressors, well completions, wellhead leaks and leaks from pipes and valves, among other things.
They were released a day after a survey was published in the journal Proceedings of the National Academy of Sciences that found methane emissions from hydraulic fracturing in the Marcellus shale were up to 1000 times higher than anticipated.
The study added to concerns that the EPA has lacked the ability to accurate gauge the levels of greenhouse gas emissions from unconventional oil and gas development.
– Upstream