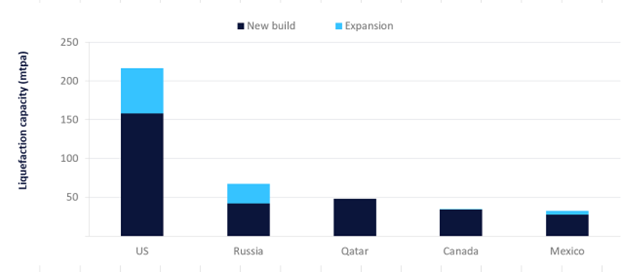 Lagos — The US is set to continue to lead global liquefied natural gas (LNG) liquefaction capacity additions, contributing 46% of the total LNG liquefaction capacity additions between 2023 and 2027, according to GlobalData, a leading data and analytics company.
GlobalData's latest report, "LNG Liquefaction Terminals Capacity and Capital Expenditure (CapEx) Forecast by Region, Key Countries, Companies and Projects (New Build, Expansion, Planned and Announced), 2023-2027", reveals that the US is expected to add a new build LNG liquefaction capacity of 158.4 (million tonnes per annum) by 2027. The country is estimated to add another 58.2 mtpa capacity from expansion projects.
Himani Pant Pandey, Oil & Gas Analyst at GlobalData, comments: "Abundant shale gas and strong demand for LNG in Asia and Europe have been primarily encouraging investments in the LNG liquefaction projects in the US. The European plans to stop natural gas imports from Russia due to the Russian-Ukraine war have given further impetus to the US liquefaction projects."
CP2 is one of the key upcoming LNG liquefaction projects in the US, with Venture Global Partners, LLC holding the entire equity, while Venture Global LNG is the proposed operator. The project is expected to start operations in 2026 with a capacity of 10 mtpa, which is likely to be doubled to 20 mtpa by 2027.
In July 2023, CP2 obtained environmental approval from the US Federal Energy Regulatory Commission and is likely to reach Financial Investment Decision (FID) later this year. Companies such as ExxonMobil, Chevron, and JERA have already signed agreements for the purchase of LNG from the project.
Plaquemines is another key project of Venture Global LNG that has already received FID and is presently in the construction stage. It is expected to start operations in 2024 with a capacity of 13.2 mtpa.
Pandey adds: "In March 2023, Venture Global LNG also announced the FID for phase two of the Plaquemines LNG export plant and secured $7.8 billion in financing. Phase II of the project is likely to increase the liquefaction capacity of the Plaquemines project to 19.8 mtpa by 2026."
Venture Global LNG has already secured buyers such as China Gas Holdings, Chevron, Excelerate Energy, Exxon Mobil, and Energie Baden Wuerttemberg for phase II of the Plaquemines project.