– Pioneering seamless industry solutions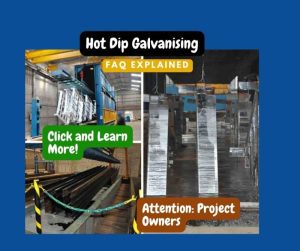 Lagos — Value Synergy Ltd, is proud to announce the launch of its innovative galvanising logistics services. With over 15 years of industry experience. This offering underscores the company's commitment to delivering comprehensive, end-to-end services that redefine industry standards.
A statement released by the company over the weekend explained that hot dip galvanising, a process known for its exceptional corrosion resistance and durability benefits, has long been a cornerstone of Value Synergy Ltd's repertoire.
However, the company recognizes that the journey from raw material to finished, galvanized product requires meticulous orchestration. The galvanising Logistics Services aim to streamline this process, ensuring a seamless experience for clients from start to finish.
"Value Synergy Ltd has always been dedicated to pushing boundaries and enhancing industry practices," stated Afam Ijekeye, CEO at Value Synergy Ltd. "Our galvanising Logistics Services represent a natural progression in our commitment to excellence. With this new offering, we're not only delivering superior galvanising results but also providing a holistic solution that encompasses every aspect of the process."
Key features of Value Synergy Ltd's galvanising Logistics Services include:
Efficient Material Handling: From material receipt and inspection to packaging and delivery, meticulous attention is given to every step, ensuring that materials are treated with care and precision.
Seamless Process Integration: The logistics services seamlessly integrate with Value Synergy Ltd's hot dip galvanising logistics services process, guaranteeing a harmonious workflow and enhanced efficiency.
Expert Quality Control: The company's unwavering commitment to quality is extended to every stage of the process, with comprehensive quality checks ensuring the end product meets the highest industry standards.
Client-Centric Approach: Communication is paramount, and Value Synergy Ltd keeps clients informed at every juncture, providing updates and maintaining transparent dialogue throughout the process.
Value Synergy Ltd's galvanising Logistics Services mark a pivotal advancement in the galvanising landscape, offering clients a comprehensive solution that addresses not only their galvanising needs but also the intricacies of materials handling, preparation, and delivery. As an industry pioneer, Value Synergy Ltd remains dedicated to driving innovation and excellence, setting new benchmarks for success.