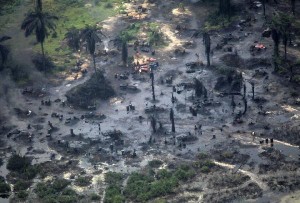 06 November 2014, Abuja – The Economic and Financial Crimes Commission (EFCC) is presently prosecuting 441 individuals for allegedly vandalising oil pipelines and stealing of crude oil.
In addition, the commission is still busy with the prosecution of suspected oil subsidy thieves with over 40 persons and organisations currently in court answering charges.
Spokesman for the commission, Wilson Uwujaren, said in Abuja yesterday at the Forum of Spokespersons of Security and Response Agencies (FOSSRA) Nigerian Initiative media parley that 71 oil thieves had already been jailed by various courts, including 45 Nigerians, 10 Ghanaians, 13 Filipinos, 10 Indians, two Togolese, one Cameroonian and one from Myanmar.
Uwujaren said at the regular parley arranged to highlight activities of the various security and response agencies, that one Seun Ogunbambo, managing director of Fargo Energy Limited, who was docked for stealing N4.5 billion in bogus subsidy claims, has absconded after he was granted bail by the court but has been declared wanted by the commission.
He also allayed fears that the prosecution of other politically exposed persons may have been halted and confirmed that the son of former national chairman of Peoples Democratic Party (PDP), Mahmud Tukur and Abdulahi Alao, a son of late Alhaji Arisekola Alao, among others were still ongoing.
"As we speak, the commission has recovered over N5 billion from persons implicated in the subsidy scam, even as it intensifies effort to bring more suspects to book", he said.
He, however, insisted that the commission was not in a position to give an advisory on whether individual undergoing prosecution for financial crimes are allowed to stand for elections.
*Bayo Oladeji – Leadership