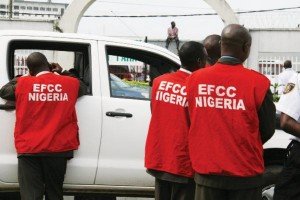 Mkpoikana Udoma
02 February 2018, Sweetcrude, Port Harcourt — The Economic and Financial Crimes Commission, EFCC, has vowed to stamp out corruption and other illegal activities in the nation's oil and gas sector.
EFCC's new Head of Operations, Port Harcourt Zone, Mr. Nnaghe Itam, who made the commitment while briefing newsmen, called on all security agencies to put hands on deck to eradicate all forms of corruption in the sector ranging from oil theft, illegal bunkering etc.
Itam explained that the Commission will not rest on its oars until its searchlight was beamed on the sector, especially since oil was the mainstay of the nation's economy.
He lamented that corruption in the sector, especially in the Niger Delta region was gravely affecting the nation's revenue.
According to him, "We will not achieve the needed change until we drive away corruption. We are having issues of corruption in the oil and gas sector, especially in the Niger Delta.
"Some of these issues are oil bunkering, oil theft and vandalism. We are determined that we will reduce this corruption. We will drive corruption in the oil sector in the region.
"Niger Delta is the base of our oil economy and we are having issues of theft. The security bodies have the privy of the terrain and we will work with them. The reason we drive anti-corruption is to stop illegal activities on the products which impinge on the economy."
The EFCC zonal boss also called on members of the public to report cases of corruption to the Commission to enable it to stamp out the menace.
He advised that pieces of evidence which would help the Commission in its investigation should be carefully handled by security agents.
"What we work with is specifics. If you give us a specific case, we will handle it. "We are interfacing to create a synergy with the security agencies that arrest offenders to be able to fast-track the process.
"There should be capacity building programmes for the security bodies so that they will not destroy our evidence as the first respondents," he said.