13 March 2015, Lagos – Rising freight rates in the West African crude oil market are having a knock effect on the already high oil prices in the region, according to market sources.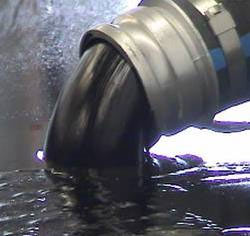 Traders said that higher crude differentials being offered in the market, in conjunction with elevated transportation fares, could force refiners to substitute their WAF crude with grades from other countries.
For most of the past months, West African crude differentials to regional benchmarks have remained strong, with significant rises across all grades.
Specifically, the Bonny Light differential gained $0.75/barrel the past month. Traders said that either freight rates or differentials would have to fall back in order to keep WAF crude competitive with grades from the Mediterranean and the North Sea.
Suezmax freight rates on the WAF-UK Continent route, basis 130,000 mt, rose Worldscale 22.5 last week, with sentiment among shipowners remaining firm at the beginning of this week.
The primary driver of the surge in WAF Suezmax rates was a huge increase in charterer inquiry for ships in the Black Sea and Mediterranean regions at the beginning of last week.
On Tuesday, sources said there were as many as 10 Suezmax cargoes working in the Black Sea and Med, a substantial increase on normal levels. This had two major effects on the WAF freight market.
Firstly, the huge amount of demand in the Med meant more employment for Suezmaxes in this region, and provided a disincentive to shipowners to ballast their vessels to WAF, thus reducing WAF position list.
This caused a small rise in freight rates, which prompted a number of charterers in WAF to jump into the market in anticipation of an even larger rise in rates expected to follow.
On Wednesday, there were reports of around seven WAF cargoes actively working and an inevitable upward correction in freight rates of w22.5 swiftly followed. At the beginning of this week, tonnage remains tight in WAF but there has been a slowdown in inquiry as charterers have attempted to take some steam out of the market.
Sources said that rates should remain firm this week though, as it is expected that there are still several March WAF cargoes to be covered.
– Vanguard