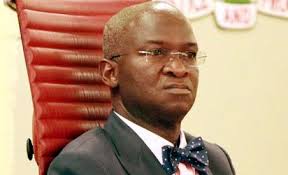 OpeOluwani Akintayo

22 July 2017, Sweetcrude, Lagos — The Minister for Power, Works and Housing, Babatunde Fashola, has explained the barriers on Nigeria's road to generating power from potatoes, cow dung and biomass.
The Minister gave the reasons in a statement over the weekend while explaining the power sector's road map to getting incremental power.
According to him, he had received a text on his telephone from a Nigerian who suggested that Nigeria could get incremental power through potatoes and cow dung.
"This particular one was interesting because the sender alleged that he had found the solution to our energy needs and was willing to share it with me", he said.
"I called him to discuss this "novel" idea he claimed to have. He then referred me to a news report that showed how somebody was generating electricity from a potato", he said.
Fashola said that it was impossible for the Country to produce electricity from potatoes and cow dung due to the new technology attached to the suggested idea. Nigeria does not have such technology, he said.
"One of my former state Executive Council members who served with me referred me to an online publication about generating electricity using biomass", he said.
"The hard truth is that generating electricity from potatoes or cow dung is possible. The question is viability and sustainability".
"First, how much cow dung can we produce to keep the power going? Because even countries who have enough cows, like Brazil and can export beef, don't use cow dung for power".
"Similarly, how much potato can we produce to fire our power needs?", he added.
Fashola said instead of channeling potatoes towards power generation, it would rather be left for consumption.
"In any event, in a country where there is poverty and hungry people, and with the proven calorific and nutritional values of potato, Why? I think it would be a poor choice to use it for power generation as opposed to using it for nutrition and well-being of children and people", he said.
Fashola said his explanation to impossibility of using the above for power generation, also applies "to all those who want to generate electricity by using waste"