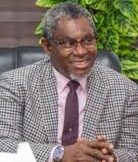 Lagos – The Minister of Mines and Steel Development, Olamilekan Adegbite, has adduced reasons why the states cannot control solid minerals in their domain, saying such would amount to selfishness on the part of the states.
Adegbite, who spoke during a meeting with state commissioners for minerals, justice and environment from the North-Central geopolitical zone, stated that the Federal Government would not give state governments control over their solid minerals because oil, which exists in a section of the country, is being produced for the benefit of the entire country, so also revenue from the oil is being used for the development of the country as a whole.
According to a statement by the Ministry's Assistant Director, Press, Timothy Akpoili, the minister maintained that just like oil, solid minerals and the revenue derived there from should be for the benefit of the entire country.