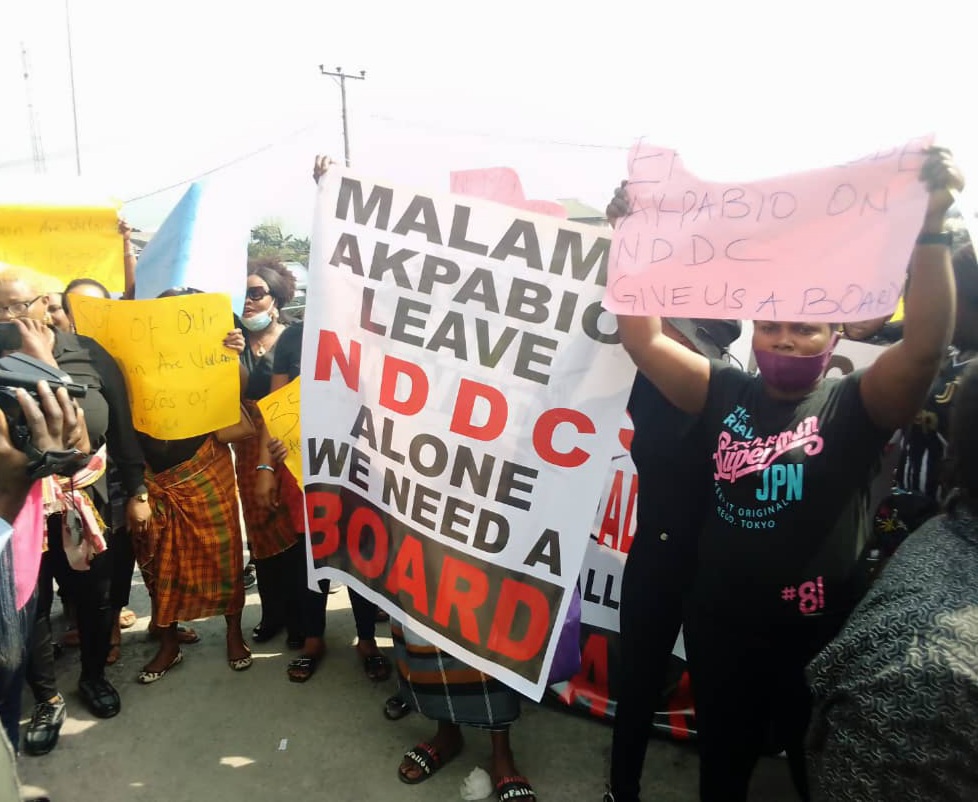 Mkpoikana Udoma
Port Harcourt — Scores of women from various states in the Niger Delta region, on Tuesday barricaded the entrance of the Niger Delta Development Commission, demanding for urgent constitution and inauguration of the Commission's Board and Advisory Council by the federal government.
The women, all dressed in black attires, stormed the NDDC new headquarters along Eastern Bypass in Port Harcourt, with placards bearing different inscriptions, such as " Give us NDDC Board today".
The women who refused to be addressed by management of NDDC, demanded to be addressed only by the Minister of Niger Delta Affairs, Sen Godswill Akpabio, while obstructing humans and vehicular movement in and out of the Commission.
Leader of the protest and Coordinator of Wailing Women of Niger Delta, Barr Adinenbo Odighonin, warned that the women will be forced to protest naked if their demands are not met as soon as possible.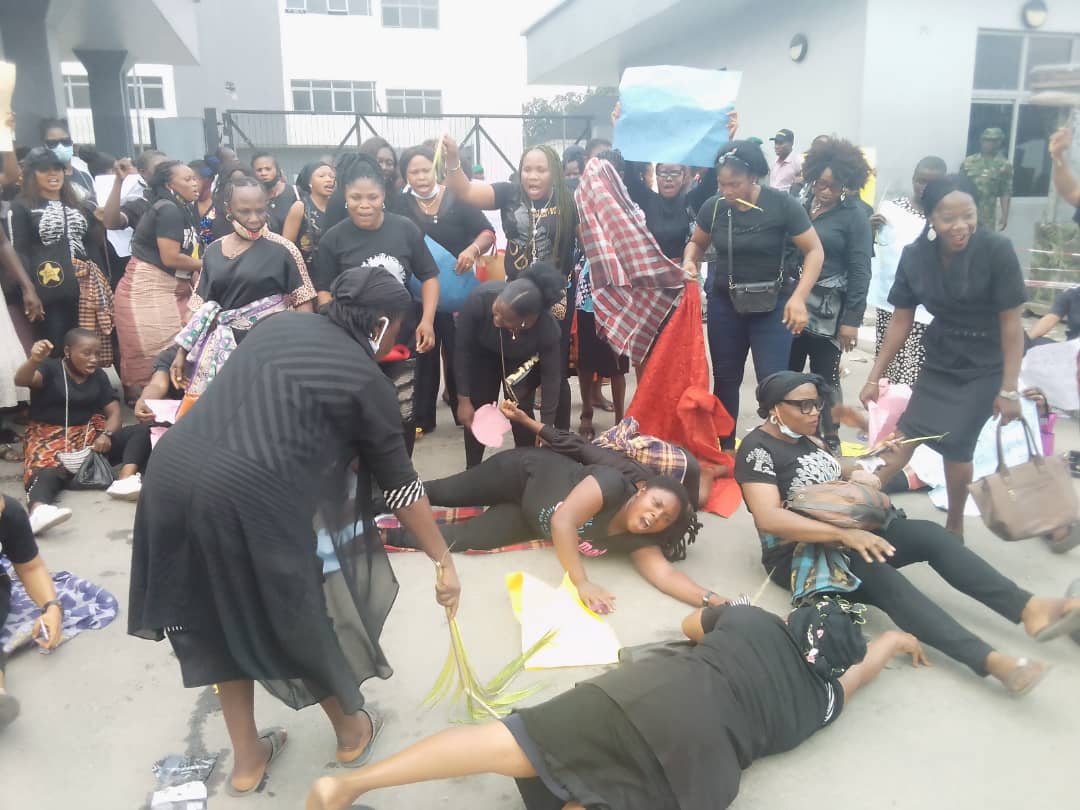 Odighonin, on behalf of the women demanded for immediate dissolution of the current administration of NDDC, explaining that the office of the interim sole administrator of NDDC was illegal in the NDDC Act.
"We want Akpabio, Malami and Buhari with immediate effect to constitute the Board of the Nddc. Because what we have here is contrary to NDDC Act, it is an illegal operation.
"They decived us and said what has delayed the constitution of the board is the forensic audit report. In September we saw dozens of Ghana-must-go bags containing the report handed over to the President, which we know even in the next 10 years, the president cannot study them.
"We want the forensic audit report to be made public immediately.
"We also want when constituting the Board women should be members of the Board, not just a representative. A woman should be part of the directors of the Board.
"We will disturb this place until our request is met. We promised Niger Delta that we are going to bring out naked women protest. This is just the beginning.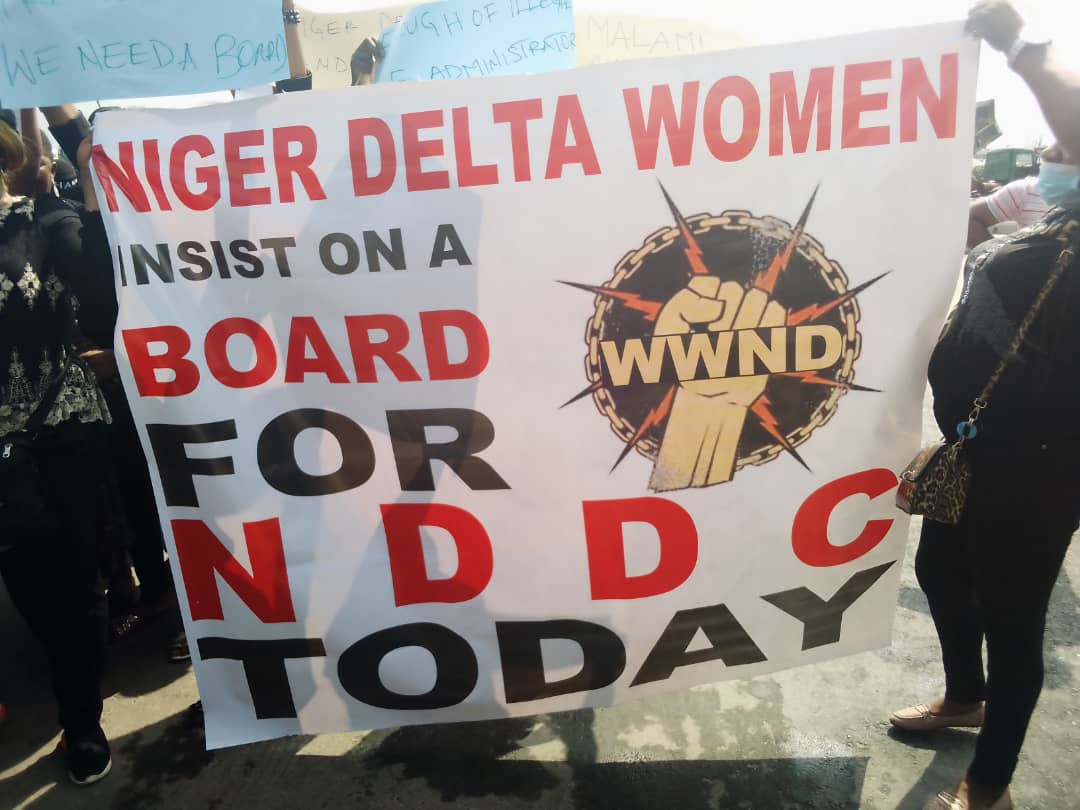 "Women will come here naked lie down and sleep in order to tell them that the board must be constituted. The protest will continue as long as they refuse to constiute the board it will continue."
Also speaking, a representative from Bayelsa State, Juliana Alagoa, said that constitution of the Board would bring development to the Niger Delta grassroots, lamenting that everything about the Commission was being politicized.
Addressing the protesting women, Assistant Commissioner of Police, Operations, UM Ogechi, sued for peace while assuring the women that their demands will be sent to the appropriate authorities.
"I seek peace. I am here to know your anger, needs and request. I am going to take it to management. We are going to resolve this, issue count on me your request will be sent to authority and we will handle it."