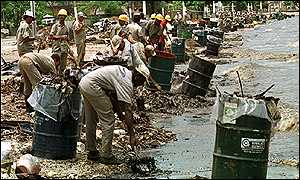 08 April 2013, News Wires – Workers on Sunday nearly finished cleaning up a handful of beaches drenched by marine fuel after a spill off the coast of Brazil's Sao Paulo state, Reuters quoted port authorities as saying.
The leak occurred on Friday afternoon at the Almirante Barroso marine terminal, or Tebar, in the city of Sao Sebastiao, according to state-run Petrobras subsidiary and terminal operator, Transpetro. The terminal handles more than 50% of the crude oil consumed in the country.
The harbour master at the port of Sao Sebastiao, Alexandre Motta de Sousa, said cleanup efforts were wrapping up.
"We were lucky because the climate helped contain the spread of the leak," he told Reuters on Sunday, adding that while the exact amount of fuel leaked was still not calculated it was regarded as "a small spill".
However, Latin news agency EFE quoted Sao Sebastiao environmental secretary Eduardo Hipolito do Rego as saying the spill appeared to be large and the situation was "very serious".
"The spill is of large proportions, so much so that it affected several beaches. We cannot rule out that the product will spread to neighbouring cities," he said on the weekend.
The municipal environmental agency had advised people to keep away from nine beaches in the Sao Paulo area, EFE reported.
Reuters reported Transpetro saying it was investigating the cause of the leak at its terminal. Marine fuel is lighter than fuel oil and can evaporate more quickly than crude.
Petrobras was not immediately available to respond to Upstream's request for comment.
Odebrecht Oil & Gas said on Friday that Petrobras was steering away from the idea of floating liquefied natural gas projects due to low US natural gas prices, widespread offshore construction delays and high demand for gas in Brazil.
However, this latest incident could strengthen the argument for FLNG projects instead of pipelines as it demonstrates the environmental threat of terminals in the region.
In addition, a spate of oil spills off the shores of Brazil during the last two years have raised safety concerns about the development of some of the world's largest petroleum reserves.
A leak in Chevron's offshore Frade field in 2011 led the company to shut down production and prompted criminal charges against the US oil major, its drilling contractor Transocean and 17 of their employees. The criminal charges were later dropped, but a civil a case that seeks about $20 billion in damages continues.
Chevron and Transocean said they did nothing wrong and are fighting the case. Brazil's oil regulator, ANP, said the Frade field spill caused no discernable environmental damage.