17 October 2014, Abuja — THE World Bank has promised to scale up Nigeria's agricultural policy on Electronic-Wallet, E-Wallet, system in Africa, including India, Brazil and China in order to encourage best agricultural practices.
The Minister of Agriculture and Rural Development, Dr. Akinwumi Adesina, disclosed this yesterday in an interview with newsmen at the Leadership Newspaper Annual Conference and Award Ceremony.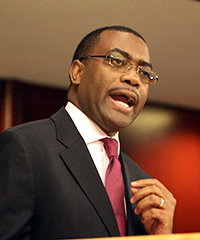 Adesina, who was awarded the Leadership Public Officer of the Year 2013, said the ministry was working hard in every state to ensure sufficiency of food for Nigerians as 'democracy of the stomach' was the right of everybody.
He also revealed that the government was going to roll out new institutions which he called marketing corporations that will replace the old market homes existing presently.
Adesina said: "We will continue to roll out greater programmes in regards to financing in agriculture together with the Central Bank of Nigeria, CBN, to our farmers. There is going to be one for cocoa, cotton, grains, and others.
"These are all the institutions that would allow our farmers to get access to stable market prices and also access to markets. As a ministry we will continue to improve the lots of our farmers, we are rolling out the mechanisation programme that Mr. President has approved."
Dedicating his award to the staff of the his ministry, the Minister said every single part of the country in agriculture were showing the impact of President Jonathan's transformation of the agricultural sector, and also promised to do his best for Nigeria as the country deserves the best.
"I have great staff and I dedicate the award to my hard working staff, all the seed companies, banks, agri-businesses, and in particular, all the state governors who made this happened and commissioners of agriculture in the country.
It is a collective success. I thank Mr. President for his resolute commitment to agricultural development," he added.
*Vanguard