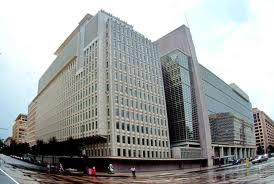 28 April 2014, Abuja – The World Bank plans to fund projects worth $8 billion (about N1.28 trillion) targeting job creation, social services and governance as part of its new country partnership strategy with Nigeria, Africa's largest economy.
The bank said Nigeria, Africa's most populous nation with about 170 million people, will receive $2 billion yearly, disbursed through the International Development Association and the International Bank for Reconstruction and Development, the Washington-based lender said in an e-mailed statement at the weekend.
Bloomberg quoted Indira Konjhodzic, the World Bank's Team Leader for New Strategy, as saying that the bulk of the financing programme will focus on increasing installed power generation and transmission capacity and improving the efficiency and governance of electricity delivery.
The fund will also boost farming and help increase access to finance for women.
Through the partnership, the World Bank is seeking to reduce extreme poverty in Nigeria, where at least seven per cent of the world's 1.2 billion poor people live. Only two countries, India and China, are home to a greater share of poor people. The most recent poverty survey by the Nigerian statistics office showed that 61 per cent of citizens were living on less than a dollar a day in 2010, up from 52 per cent in 2004.
The assistance programme plans to develop a "more effective mechanism for social services delivery" by ensuring access for the vulnerable to "social protection programmes, education, health and water service delivery", said Marie Francoise Marie-Nelly, World Bank's Country Director for Nigeria.
The Federal Government has also made huge investments in the power sector before its privatisation to make it attractive to investors.
The process led to the unbundling of the Power Holding Company of Nigeria (PHCN) from where 18 successor companies were created.
The companies comprise 11 distribution firms, six generation companies and one transmission firm-Transmission Company of Nigeria (TCN) – which is under the management of Manitoba Hydro International.
The Bureau of Public Enterprises (BPE) said that on or before 2015, the Federal Government would have concluded the sale of all power assets. The sale of 15 assets, including 10 distribution and five generation companies, have been concluded. The Niger Delta Power Holding Company (NDPHC) has also concluded the process for the privatisation of its 10 power plants under the National Integrated Power Project (NIPP).
The BPE said of the 14 successor companies handed over, $2, 525,824,534 was realised as proceeds. Of the amount, $1,256,000,000 came from the DISCOs. The GENCOs raked in $1, 269,824,534.
– The Nation