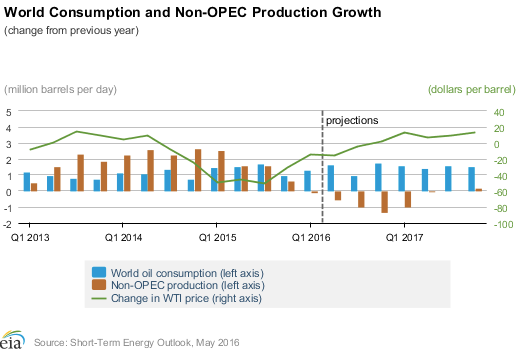 OpeOluwani Akintayo
17 March 2018, Sweetcrude, Lagos — World oil demand grew by 1.62 million barrels per day in 2017, up by around 23 thousand barrels per day from the previous month's assessment, to average 97.04 mb/d, statistics obtained from the Organisation of the Petroleum Exporting Countries, OPEC has shown.
Oil demand growth in the Organization for Economic Cooperation and Development, OECD region was revised higher by five thousand barrels per day in 2017, due to better-than-expected data in OECD Asia Pacific during fourth quarter 2017, primarily in Japan and Australia.
According to the market statistics, improvements in middle distillate requirements in 4Q17 in Japan and Australia have moderated the usual oil demand declines in Japan, while strong mining activities in Australia supported additional demand for diesel oil, leading to an upward adjustment of 20 tb/d in 4Q17.
In the non-OECD region, oil demand growth was also revised higher by 18 tb/d in 2017, mainly reflecting positive momentum in China and Other Asia.
In China, an upward revision of 70 tb/d in 4Q17 resulted from better-than-expected demand in the petrochemical and transportation sectors in the country.
Oil demand growth was adjusted higher by 30 tb/d in 4Q17 in other Asian countries, mainly reflecting better-than-expected oil demand developments in India, Indonesia, and Thailand.
In 2018, world oil demand is anticipated to rise by 1.60 mb/d to average 98.63 mb/d, marginally higher than last month's assessment.
Most of the oil demand growth is anticipated to originate from Other Asia, led by China, followed by India and then by OECD Americas.
Similar to 2017, the OECD region saw an upward revision by 20 tb/d in 1Q18 amid solid initial data for OECD Americas.
Additionally, in the non-OECD region, oil demand growth projections were adjusted higher by 20 tb/d in 1Q18 compared with last month's report, mainly reflecting the solid pace of growth for India in January 2018.