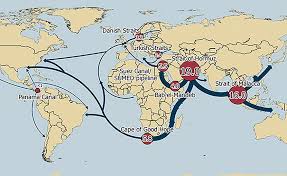 28 July 2017, Sweetcrude, Washington, D.C. — "World chokepoints for maritime transit of oil are a critical part of global energy security.
About 61% of the world's petroleum and other liquids production moved on maritime routes in 2015.
The Strait of Hormuz and the Strait of Malacca are the world's most important strategic chokepoints by volume of oil transit…International energy markets depend on reliable transport routes.
Blocking a chokepoint, even temporarily, can lead to substantial increases in total energy costs and world energy prices.
Chokepoints also leave oil tankers vulnerable to theft from pirates, terrorist attacks, political unrest in the form of wars or hostilities, and shipping accidents that can lead to disastrous oil spills."—EIA