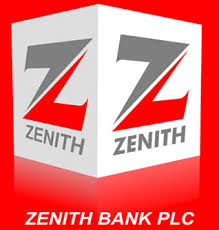 24 July 2014, Lagos – Zenith Bank Plc yesterday reported a profit before tax (PBT)of N57.85 billion for the six months ending June 30, 2014, showing an increase of  seven per cent compared with  N54.08 billion for the corresponding period  of 2013.
Details of the results showed that Zenith Bank's  gross earnings went up by 7.8 per cent from N171.02 billion in 2013 to N184.43 billion, while profit after tax (PAT)  grew from N45.42 billion in 2013 to N47.45 billion in 2014.
A further analysis of the financials also indicated that Zenith grew its assets by 15.2 per cent from N2.78 trillion to N3.20 trillion.
Similarly, shareholders' funds rose by 7.43 per cent from N458.31 billion  492.38 billion. Zenith Bank's cost to income ratio improved from 57.9 per cent to 56.4 pr cent, while loan to deposit ratio stood at 60.1 per cent compared to 55 per cent in the corresponding period of 2013.
Reacting to the results, analysts at FBN Capital said: "The market will be relatively pleased with the PBT result, given the full year target of N120 billion. Of course the bank will have to deliver a stronger H2 but we do not believe this is out of the bank's reach."
Zenith Bank, with network that includes subsidiaries in the United Kingdom, Ghana, The Gambia, Sierra Leone and Liberia, currently has a shareholder base of about one million.
Apart from listing $850 million worth of its shares on the London Stock Exchange (LSE) via a technical Global Depository Receipt (GDR) programme, the bank, in April 2014, recorded a massive over-subscription of about 200 per cent in its  $500 million Eurobond issue under a $1billion Global Medium Term Note (GMTN) programme.
Zenith Bank was also in June, declared the "Most Customer Focused Bank 2014" by KPMG Professional Services in all three categories namely: corporate, retail and SME which the survey covered.
Besides, Zenith Bank this year was rated the biggest bank in Nigeria in terms of tier-1 capital by the Financial Times of London and best Nigerian bank in corporate governance by World Finance Magazine.
– This Day