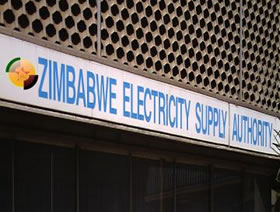 07 November 2014, Harare – ZESA Holdings, an integrated electricity generation and distribution company, has signed a new deal with Hydro Cahora Bassa for the supply of an additional 50 megawatts (MW) from the Mozambican power utility, the Financial Gazette has established.
The country currently imports about 50MW under a non-firm contract from Hydro Cahora Bassa, the only remaining regional supplier of electricity into the country after other major suppliers such as South Africa's Eskon, ZESCO of Zambia and Electricidad de Mocambique (EDM) cut off supplies for non payment of electricity supplies.
ZESA Holdings' chief executive officer, Josh Chifamba, told the Financial Gazette that electricity supplies from Mozambique would commence at the beginning of next year, with Hydro Cahora Basa boosting electricity supply to Zimbabwe by 100 percent to 100 MW on a firm contract basis.
"The new contract is in place now and as from January 2015 Hydro Cahora Bassa will start supplying us with 100MW of electricity on a firm contract basis," said Chifamba. A firm contract refers to the amount of electricity available which can be (and in many cases must be) guaranteed to be available at a given time.
ZESA was in October forced to open negotiations with the Mozambican power utility with the aim of increasing importation of electricity to augment low local generation capacity locally, which has underlined the country's vulnerability. The move by the power utility to shore up electricity imports comes against the backdrop of massive load shedding across the country owing to low power generation from the country's five power stations.
ZPC, a subsidiary of Zesa Holdings, is in charge of power generation and operated the five power stations namely Hwange, Kariba, Munyati, Harare and Bulawayo. Kariba Power Station, the country's biggest contributor of electricity, currently generates an average of 650MW while Hwange Thermal Power Station generates about 564MW.
Bulawayo and Munyati power stations contribute about 26MW and 27MW to the national grid respectively while Harare Power Station contributes about 30MW. Zimbabwe is currently facing serious power shortages due to inadequate generating capacity with businesses and households enduring long periods of load shedding.
The national power demand at peak periods is estimated to be at 2 200MW against available generation of about 1 300MW with the shortfall being imported from regional power utilities. But government, through ZPC, another subsidiary of ZESA Holdings, is working to close the electricity deficit in the country through the expansion of Kariba South Hydro Power Station to add 300MW to the national grid.
Sino Hydro Corporation has already started expansion work at Kariba South power plant. The Kariba Power Station expansion project is expected to cost US$533 million. ZPC has signed an engineering, procurement and construction (EPC) agreement with Chinese firm, Sino Hydro Corporation for Hwange Thermal Power Station expansion project. Under an EPC contract, the contractor designs the plant, procures the necessary materials and builds the project either directly or by sub-contracting some of the work.
Hwange Power Station, the country's largest coal-fired power plant, is currently using six units and the expansion would see the thermal power station adding two more units which would have a combined generation capacity of 600MW. The project is estimated to cost $1,5 billion. It takes three-and-a-half years to complete. Zimbabwe is also pursuing several other power projects which include solar projects.
*Phillimon Mhlanga – Financial Gazzette