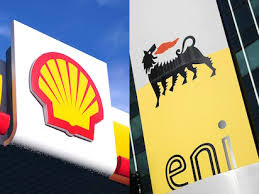 OpeOluwani Akintayo, with agency report
20 September 2018, Sweetcrude, Lagos — Multinational oil companies Shell and Eni will know their fate Thursday (today) in the ongoing $1.3 Malabu oil deal trials.
In a case holding in Milan, Shell and Eni will find out whether or not they are guilty in the controversial deal involving the oil field OPL 245 described as the biggest and juiciest so far in Nigeria's Niger Delta region.
The oil multinationals were said to have given bribes to government officials led by former Petroleum Minister, Dan Etete, in order to secure the oil field.
Eni and Shell have been involved in the long-run case since 2011 involving Eni's Chief Executive Officer, Claudio Descalzi, and four former Shell managers, including one-time Shell Foundation Chairman, Malcolm Brinded.
The Thursday ruling, involving Emeka Obi and Gianluca Di Nardo, is a case running parallel to the main trial of both oil giants. It may, however, give clues to what might be around the corner for the two companies, according to Reuters.
Emeka Obi is one of the middlemen who had claimed that he deserved a share of the $1.3 billion involved in the deal, saying he helped mediate negotiations between the oil giants and ex-Nigerian petroleum minister, Dan Etete.
Italian prosecutors allege that Mr. Obi received a mandate from Mr. Etete to find a buyer for OPL 245, collecting $114 million while Mr. Di Nardo took $24 million of that amount for putting Mr. Obi in touch with Eni.
Mr. Obi, a Nigerian, and Mr. Di Nardo, an Italian, are said to be middlemen.
Eni and Shell, as well as their managers, have denied any wrongdoing.
A legal source told Reuters on Tuesday that although the Thursday ruling will not tie the court's hand in the main trial, it will nonetheless constitute a sort of pre-judgment.
"It's clear the ruling will become a first building block in favour of the prosecution or the defense… it will be a first verdict by a third-party judge on the matter," the source said Tuesday.
A fast-track procedure that began in November will ensure the judge be called on to decide whether Messrs Obi and Di Nardo should be convicted in the case or acquitted for receiving payments prosecutors alleged to be illegal kickbacks.
Messrs Obi and Di Nardo, who have previously denied any wrongdoing, asked for a fast-track trial which under Italian law allows any eventual sentence to be cut by a third. If found guilty, the individuals on trial face possible jail terms for bribery while the companies face hefty fines.
Earlier, some documents had been seized in a raid on a Swiss financier's apartment that could be crucial to the case. The raid, according to Independent newspaper, uncovered a briefcase belonging to Mr. Obi, who is in the dock along with several former Shell employees and current and former Eni executives.
According to Swiss prosecutors, the suitcase contained a laptop, two Nigerian passports, five sim cards and a hard drive containing 41,000 documents that prosecutors believe could be crucial to the trial playing out on the other side of the Alps.
Meanwhile, Italian prosecutors alleged that, of the total $1.3 billion fees paid by Shell and Eni for the oil field, $1.1 billion went not into the coffers of the Nigerian state but the accounts of former oil minister Dan Etete who then allegedly distributed hundreds of millions to well-connected individuals, including former president Goodluck Jonathan.