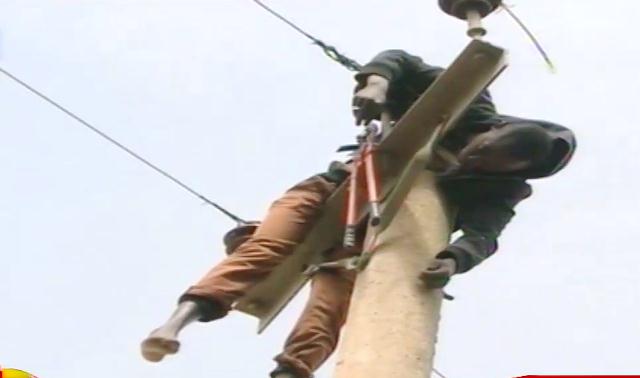 Oscarline Onwuemenyi
10 January 2017, Sweetcrude, Abuja – The Nigerian Electricity Management Services Agency (NEMSA) has disclosed that 113 were killed and about 77 others injured from 146 electrical accidents that happened across the country in 2017.
The agency made this known in a report it presented at the 23rd Power Sector Meeting in Lafia, Nasarawa State, wherein it noted that networks belonging to nine of the 11 Electricity Distribution Companies (Discos) have been inspected.
Presenting the report, the Managing Director of NEMSA, Engr. Peter Ewesor, said seven persons were electrocuted in five accidents that occurred last month.
He also urged the inspected Discos to intensify efforts at revamping their protection schemes and equipment and educate the public on the need for extreme caution using electricity.
He added that, "Operators of the power sector to note that target for electrocutions nationwide is zero."
From the report of the accidents for December 2017, Eko Disco recorded one accident which claimed one life; Port Harcourt Disco recorded two accidents which killed three persons; Abuja Disco recorded an accident that claimed two lives while Kano also recorded one death from one accident.
From the statistics, 190 people were victims of 146 electrical accidents throughout the whole year in 2017 in which 113 people died in 95 accidents while 77 others sustained injuries in another 51 accidents.
Abuja Disco recorded the highest number of fatal accidents, (21) while the least number of fatal accident occurred under the Transmission Company of Nigeria (TCN) (1).
The analysis indicates that under Abuja Disco, 26 non staff died of electrical accidents in 21 accidents while nine other accidents injured three staff and 10 persons.
Port Harcourt Disco also recorded eight accidents that killed 17 persons while two other accidents injured one staff and 10 other persons.
Kaduna Disco recorded six accidents which killed four persons and two staff; three other accidents injured two staff and one person.
Yola Disco had four accidents that killed one staff and three non-staff while one accident injured a non-staff. Eko Disco also had four accidents that killed two staff and two non-staff while one accident injured a staff.
Kano Disco recorded 15 accidents that killed 17 persons; it also had 12 other accidents that injured seven staff and 14 persons. Under Jos Disco, 12 accidents killed seven staff and seven non staff; it had six other accidents that injured five staff and one person.
At Ibadan Disco, 11 persons died from 11 accidents while five other accidents injured three staff and two other persons. Six non-staffs and two staffs died from eight accidents under Benin Disco while it recorded no injury throughout 2017.
Three accidents at Enugu Disco claimed killed two staffs and one other person while one accident injured a staff in 2017. At Ikeja Disco, one staff and another person were killed from two accidents while 10 other accidents injured nine staff and two others.
Acccording to Mr. Ewesor, "The national monitoring and technical evaluation of all 33kV primary feeder lines and associated 33/11kV injection substations and their outgoing feeders on-going with nine Discos has been concluded."