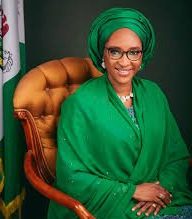 OpeOluwani Akintayo
Lagos — The federal government has set an oil production of 1.86million barrels per day and an oil price benchmark of $40 per barrel in the 2021 national budget.
In a document presented by the Minister of Finance, Budget & National Planning, Dr. Zainab Shamsuna Ahmed, the federal government said crude oil production is projected to increase from 1.80mbpd in 2020 to 1.86mbpd in 2021 as economies recover from recession and moderated by OPEC+ quota agreements.
Although Nigeria's total production capacity is 2.5mbpd, current crude production is about 1.7mbpd, including about 300,000bpd of condensates, which indicates compliance with OPEC quota.
Group General Manager of the NNPC, Mele Kyari at a global event on Wednesday had reiterated Nigeria's commitment to the OPEC+ cuts.
According to the document, oil GDP is projected to rise by 16.23% in 2021, year on year, resulting in about 1.1% increase in non-oil GDP. Based on this, real GDP is expected to rise by 3.0% in 2021.
Crude oil price benchmark was retained at US$40 per barrel. This is even as the World Bank forecasts US$44p/b average crude oil price in 2021. The Energy Information Administration, EIA also projected $48.53p/b average Brent crude oil price in 2021.
The aggregate revenue available to fund the 2021 budget is projected at N7.99 trillion- 36.9% higher than the 2020 projection of N5.84 trillion.
In aggregate, 30% of projected revenues are expected to come from oil-related sources while 70% is to be earned from non-oil sources.