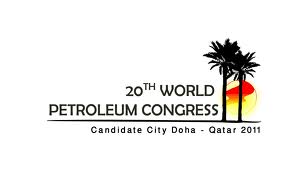 Held every three years, the World Petroleum Congress and Exhibition is the largest and most reputable oil and gas industry gathering in the world. The 20th World Petroleum Congress is hosted by Qatar Petroleum and will take place at the Qatar National Convention Centre (QNCC) in Doha, Qatar, from 4-8 December 2011. Since its establishment in 1933, this is the first time that the World Petroleum Congress will be hosted in the Middle East.
Online discussion:
The 20th World Petroleum Congress is proud to announce the launch of its new online discussion forum – WPC Youth Connect (WPCYC) at www.wpcyouthconnect.com. This forum will serve as a platform to promote online debate and comment with youth. The resulting content will then be used at the Youth Special Session to be held on Thursday 8th December under the theme "Youth in the Energy Future" at the 20th WPC.
The triennial World Petroleum Congress is held over five days with more than 4000 delegates, 600 media and 550 presenters participating in a programme that covers all aspects of the industry, from technological advances in upstream and downstream operations, to the role of natural gas, renewable and alternative energy, the management of the industry and its social, economic and environmental impact.
Known as the "Olympian Event of the Oil and Gas Industry", it is attended by a global oil and gas audience and outside stakeholders such as governments, other industry sectors, NGOs and international institutions who also join in the dialogue.
The World Petroleum Exhibition, held alongside the congress, and in the same venue, features exhibits from the national committees of the World Petroleum Council, which include the most prestigious national oil and gas companies and agencies of the world. It also showcases the most important international oil and gas companies alongside key suppliers, service companies and manufacturers. This is the most significant global exhibition dedicated to the oil and gas industries.