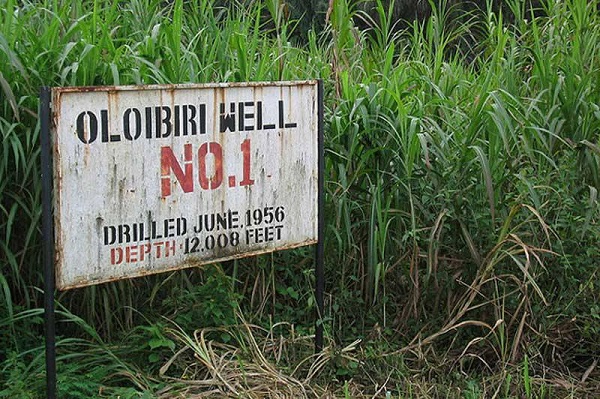 Mkpoikana Udoma
17 March 2018, Sweetcrude, Port Harcourt —A book titled, Language of the Sun, written on oil exploration in Oloibiri, Bayelsa State where crude oil was first discovered in commercial quantity in the country, has been launched in Port Harcourt.
Author of the book, Ms. Okelani Aworabhi, who is a graduate of Geology from the University of Port Harcourt and holds an MSc degree in Renewable Energy Technology from Cranfield University, United Kingdom, was born on December 6th, 1989 and hails from Oloibiri town.
Aworabhi, speaking to newsmen regretted that since 1956 when oil was first discovered in Oloibiri, the community has suffered gross marginalisation and neglect instead of benefiting from her God-given natural resources.
She explained that the book was aimed at reaching out to the people of Niger Delta region to encourage them in their struggles and agitation.
The writer, however, condemned the use of arms by Niger Delta youths in making their demands, regretting that the God-given natural resources which ought to be a blessing have become a curse to the people.
"Oil should be a blessing to the Niger Delta people, they bear the brunt; but what is happening in the region's environment today, is a threat to its existence."
About the book, the 28year old explained that the book has the fictional village of Efeku as its setting and the story was told from the lens and mouth of a young independent-minded queen called Agbama.
According to her, "Queen Agbama in her uncanny vision for her land and people, defied the stereotype built around her and the people that would have hindered their progress and pitched her against the custodians and adherents of their traditions and customs of the land."
She disclosed that the encounter eventually cost Agbama her life, but it acted as a catalyst to the common struggle for demanding development, a remediated environment and a sense of belonging for people of the Niger Delta.
The book launch which took place at the Royal Banquet Hall, Hotel Presidential in Port Harcourt, had Prof. E. J. Alagoa, Chief Femi Lawal Asuku, and Amb. Eric Aworabhi as special guests of honour, amongst other dignitaries.