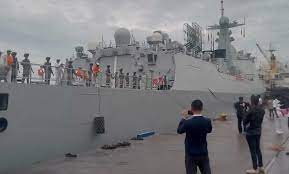 Vincent Toritseju
Lagos — Three Chinese warships have arrived in Lagos with nearly a battalion of soldiers.
Chinese Ambassador to Nigeria said the visit was to ensure the improvement of diplomatic relations between Nigeria and China.
The naval fleet of China's People's Liberation Army (PLA) led by the 'Destroyer Nanning', arrived in Nigeria on Sunday for a rare visit by the Chinese military to Africa's Atlantic coast.
The destroyer and an accompanying frigate, Sanya, along with a supply ship, Weishanhu, arrived off the port of Lagos, with the Nanning berthing for a port call through Thursday.
Speaking at a ceremony to receive the vessels, the Chinese Ambassador, Cui Jianchun, said the relations between the two countries have deepened and efforts were on to broaden the military relations between the two countries.
"The visit is to further deepen the relationship the two countries have with one another and also seek to strengthen and improve our relationship and cooperation with each other. This visit demonstrates the harmony and symphony between Nigeria and China," Jianchun stated.
Earlier the Flag Officer Commanding Western Naval Command, Rear Admiral Joseph Akpan, applauded the visit of the ships, saying that it was to fulfill the diplomatic roles of the navy.
"This is especially between the Nigerian Navy and the Chinese Navy as well as the military. This will help us fight crimes, especially in the Gulf of Guinea. During their period of stay, our men will be interacting; we will be having some sporting activities, exchange of mementos and gifts. We will also discuss the future of both navies, especially on how we can benefit from each other," Akpan said.