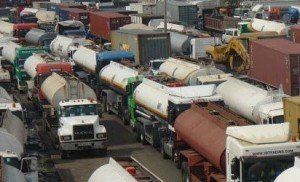 Mkpoikana Udoma
16 May 2018, Sweetcrude, Port Harcourt — Petrol tanker drivers have threatened to withdraw their vehicles from service in Rivers state prompting fear of another round of fuel scarcity from tomorrow, Wednesday 16th May 2018, over alleged manhandling of its members by security agents.
This comes few hours after petrol tanker drivers blocked the Airport Roundabout of Port Harcourt-Elele-Owerri Road, in protest against security agencies in the state.
The blockade which lasted for several hours left commuters stranded, as vehicles plying Owerri-Omerelu-Omagwa-Port Harcourturn forced to turn back and pass through Elele-Alimini to East-West Road to get to their destinations.
Rivers State Chairman of PTD, Comrade Lucky Etuokwu, told SweetCrude Reports that as a result of the protest, tanker drivers have resolved to withdraw their services in the state till security agencies pay for trucks damaged during the protest.
Etuokwu explained that soldiers stationed at Omagwa Airport checkpoint destroyed six trucks during the protest, whereas NSCDC officials had before now impounded some of its trucks, while Police officers recently burnt down two trucks belonging to its members in Eleme.
He explained that if by the expiration of Wednesday, nothing is being done, filling stations operators will be forced to also withdraw their services as filling stations workers were also members of NUPENG.
According to him, "Tomorrow, Wednesday we are going to withdraw our services in Rivers State. There will be no loading, and no dispatching of petroleum product in Rivers State from tomorrow, until the Nigerian Army and Police pay for our damaged trucks.
"Some of our trucks are in Bori Camp, some are with NSCDC and two of our trucks were four months ago burnt along Refinery Road by Police. We need them to pay for those and Civil Defence to released our trucks.
"For the burnt trucks, we have been discussing with the Commissioner of Police but they are feeling unconcerned.
"We are withdrawing our services because we want the government to come and see what we are suffering in the hands of security agencies."
Etuokwu who is also the Deputy Chairman of NUPENG, Port Harcourt Zone, explained that incessant intimidation of tanker drivers by security agents led to the blockade of Airport Road earlier witnessed in the state, yesterday.
He stated that even the caretaker Chairman of Ikwerre Local Government and the Divisional Police Officer of Omagwa Police Station witnessed the damages done to trucks by soldiers during the protest at Airport junction.
"What happened is that some people who say they are NATFORCE stopped a tanker driver along that road and in the process demanded for money. The tanker driver said he doesn't have money and they started beating him.
"So some of our men went there to enquired what was happening, and when he got there they started beating him also.
"These people have been working with those soldiers stationed at that Airport Junction, if a tanker Driver refuses to stop, they will use the soldiers there to stop the tanker, intimidate the driver and if the driver refuses to give them money, they will beat him up.
"So because of the protest today, soldiers came to that place and destroyed more than six trucks, damaged the windscreen, headlights, side mirrors and burst tires too. For the damaged trucks, we have not seen the soldiers."