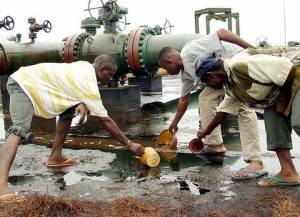 Austin Ogwuda
19 July 2012, Sweetcrude, ASABA – NIGERIA Security and Civil Defence Corps, NSCDC, operatives in Delta State, have arrested a total of 36 suspects, and impounded 11 trucks used in convening 117,795 litres of adulterated petroleum products between January and June this year, state commandant of the Corps, Mr. Andekin Musa, has said.
Musa, who spoke in Asaba, Wednesday, while parading three suspects arrested by the command's anti-vandal squad, stated that the squad was on surveillance on July 10 at 2330 hours,when the officers sighted a truck, loaded with suspected petroleum product and escorted by armed youths, at Okwagbe community in Ughelli South Loca Government Area.
"The white Mercedes Benz was trailed by the squad and later intercepted at Otor-Udu on July 11, 2012 at 08am, while in transit to Onitsha," he said, adding: "On demand for the title document, the three suspects produced a waybill for a chemical product, which was different from the suspected petroleum product concealed in 41 drums of 250 litres each, hence they were arrested and brought to the command's headquarters in Asaba".
He disclosed that from January to June this year, the command arrested 36 suspects, impounded 11 trucks containing 117,795litres of suspected petroleum products (diesel) while there are currently five cases in court against those arrested.