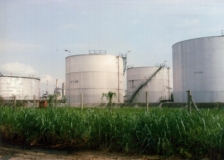 Anayo Okoli
13 September 2012, Sweetcrude, UMUAHIA—ABIA State government has accused the management of Pipelines and Products Marketing Company Limited, PPMC, of sabotaging efforts of the Federal and state governments to ensure availability of fuel at the newly re-opened Osisioma Depot near Aba, the commercial nerve centre of the state.
The government alleged that PPMC was conniving with operators of tank farms to claim that pipelines that pump products from the Port Harcourt refinery to Osisioma were being vandalised when in fact the reverse was the case as the pipelines were being guided round the clock by soldiers.
The face-off between the government and PPMC was sparked off via a letter dated August 6, 2012, by PPMC to the government, claiming that it has lost 2.7 million litres of petrol worth over N232 million to vandals between July 5 and July 19, 2012.
In the letter, PPMC named the areas where the "multiple vandalism" took place to include Eleme axis, kilometre 19.1 at Ubaku and kilometre 26.6 at Owaza, adding that "the vandals carried out these nefarious activities undetected.
The letter signed by Dr. A. Fagbure, said: "We wish to urge Abia State Government to intensify its campaign against pipelines vandalism among the communities to enlighten the people of the dangers of this nefarious act.
"This is due to the fact that NNPC may be compelled to shut the line once again if successful pumping of petroleum products through the lines cannot be guaranteed."
However, the state government, through the Commissioner for Petroleum and Solid Mineral Resources, Chief Don Ubani, dismissed it as "spurious" and "in bad faith."
He said: "We see the letter as spurious, a blackmail to discontinue pumping fuel to Abia State. My investigation showed that some people, who operate tank farms, were behind it. They want to sabotage the Osisioma depot. There is no truth in the letter."