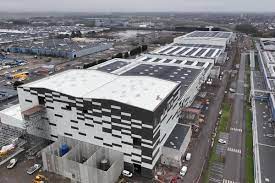 – A European mega-project for battery production
Lagos — Automotive Cells Company, ACC, recently inaugurated its first gigafactory for electric vehicle batteries in Billy-Berclau/Douvrin in the Hauts-de-France region.
ACC represents the culmination of the collaborative effort between TotalEnergies, Stellantis, and Mercedes-Benz, and should accelerate Europe's transition towards sustainable mobility accessible to all.
Founded in 2020, ACC is a joint venture between Stellantis, Mercedes-Benz, and TotalEnergies, through its affiliate Saft, which is behind the technology used by ACC.
ACC is positioned as a key player in the battery industry to equip high-performance, low-carbon electric vehicles that are accessible to the greatest number of people.
As a multi-energy company, TotalEnergies is contributing to Europe's energy transition, which involves the electrification of energy uses.
The Company's contribution to the development of ACC, as well as other investments in the development of batteries, the deployment of recharging infrastructures, and the production of electricity, particularly renewable electricity, are all part of this process.
TotalEnergies is thus contributing to the transformation of the European energy landscape and the emergence of a more sustainable economy.
Follow us on twitter