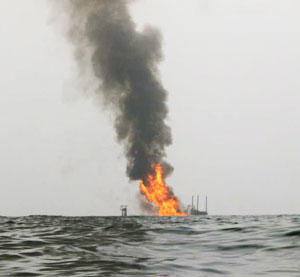 Samuel Oyadongha

20 March 2012, Sweetcrude, Yenagoa – The National Youth Leader of the Action Congress of Nigeria, Comrade Ebikibina Miriki has lashed out at the Presidency over comments that it (ACN) was crying more than the bereaved over the Koluama gas explosion in Bayelsa State.
Presidential Spokesman, Dr. Reuben Abati had dismissed as crying more than the bereaved the comments by the National Publicity Secretary of the Action Congress of Nigeria (ACN), Alhaji Lai Mohammed, accusing President Goodluck Jonathan and the Federal Government of not doing enough to provide succour for the victims of the gas explosion.
The Presidential Spokesman said though the incident occurred at the height of the fuel subsidy crisis, the Federal Government gave priority attention to the matter by setting the necessary machinery in motion to manage the disaster.
But Miriki described the Presidency reaction as not only provocative but also the height of insensitivity to the suffering people of the oil producing communities whose environment and means of livelihood is constantly being violated by multinational oil companies in alliance with the Federal Government.
The National Youth Leader who was the immediate past ACN state chairman in Bayelsa State said since the peoples survival revolves around their environment the President should have responded swiftly by visiting the area instead of visiting after the public outcry over perceived insensitivity of the Federal Government to the plight of the affected communities.
"The position of the Presidency on the Koluama gas explosion as championed by the presidential spokesman shows the inability of Federal Government to rise to the challenge of protecting the people against environmental pollution, which over the years have destroyed their means of livelihood.
"It is not only unjustifiable, unfair and unacceptable for Mr. President to visit the scene of the gas explosion, six weeks after the explosion, yet the President visited Bayelsa twice without visiting the people of the impacted communities," He said.
The ACN National Youth Leader recalled that in 1980, when the Texaco Funiwa blow out occurred also on the Atlantic fringe resulting in a major oil spill President Shehu Shagari and Late Chief Melford Okilo, former governor of Rivers State, promptly visited the area and provided succour for the people of the area.
He urged the Federal Government to take seriously the protection of the environment and guarantee the right of the people to a clean environment.