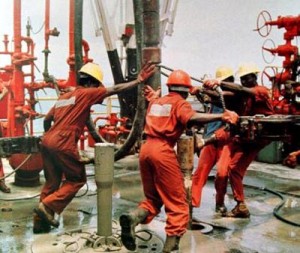 12 May 2014, Abuja – The National Conference Committee on Devolution of Power again on Monday in Abuja failed to reach a decision on the contentious issues of  resource control and derivation principle.
The committee could also not resolve the argument and counter argument by some delegates from different geo-political zones that the onshore-offshore oil dichotomy should be reintroduced in host states.
But delegates from the North had spoken in support of the reduction in derivation principle or at best retention of the existing 13 per cent while delegates from the South, particularly those from the South-South, canvassed for more.
On the issue of reintroduction of the abolished onshore-offshore oil dichotomy, some delegates from the South West geo-political zone agreed with those from the North that the abolition carried through an Act of the National Assembly should be reintroduced.
Arguments by delegates from the oil-bearing states bordered on the belief that reintroduction of the onshore-offshore oil dichotomy will take the country many years backward and create or bring back some situations that the National Conference was called to discuss and find solutions to.
Other delegates from the South were said to have argued that the demand for premature scrapping of the Niger Delta Development Commission, the Presidential Amnesty Programme and the Ministry of Niger Delta Affairs could reintroduce the same problems those agencies were created to solve.
Co-Chairman of the Committee and former governor of Akwa Ibom State, Obong Victor Attah, had informed journalists after the morning session that each of the committee members had the opportunity to state their positions on the issues and was optimistic that the committee would arrive at a decision by the end of the day.
This however did not happen at the close of sitting on Monday.
– The Punch