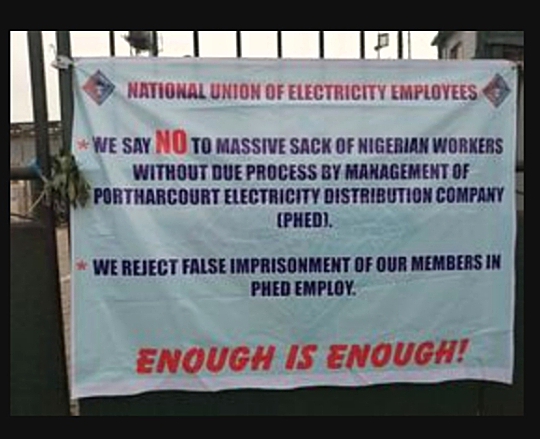 Mkpoikana Udoma
Port Harcourt — Members of the National Union of Electricity Employees, NUEE on Wednesday ground activities at the headquarters of the Port Harcourt Electricity Distribution Company, PHEDC, over alleged sacking of 150 staff without severance benefits.
The electricity workers in their numbers with banners and placards, said the management of PHEDC did not consult the union before sacking over 150 workers.
Zonal Organizing Secretary of NUEE, Joseph Ogboaja, said the barricade was imperative in order to get the management of PHEDC to negotiate for the proper retirement benefits accrued to their members.
Ogboaja also debunked the claims that the workers where old and retired and that they signed for their severance packages.
He said contrary to such claims, none of the persons sacked was up to age 50 and some of them joined the service just years ago, and had worked meritoriously for PHEDC by raising their bill generation from about N1billion to N4 billion in 2020.
However, a mild drama ensued as serving staff members of PHEDC came out enmass to counter the protest by members of the union and those sacked from services.
PHEDC staffers came out with several placards with inscriptions in support of the management, while demanding that the sacked workers should respect the condition of service which they signed in 2020.
Meanwhile, PHEDC has maintained that the company has paid full terminal benefits to all optimised staff, in its commitment to upholding the values of the Conditions of Service signed between them and the various electricity workers' unions in 2020.
Acting Manager, Corporate Communications PHED, Chioma Aninwe, challenged the protesters to produce one optimised staff who has not received his or her full terminal benefits.
Recall that two weeks ago, the Senior Staff Association of Electricity Employees and Allied Companies, SSAEC had raised the alarm, accusing the Disco of sacking scores of its members without commensurate severance package.
SSAEC had also accused the company of penciling 60 of its members for sack, without recourse to the union for a dialogue and without adequate emoluments.