Oslo – Akobo Minerals, the Scandinavian-based Ethiopian gold exploration and boutique mining company, today announced that its mining contractor IW Mining Pty (Ltd) has arrived at site.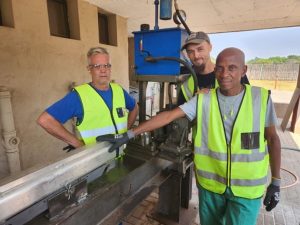 Jørgen Evjen, CEO of Akobo Minerals, stated: "With the arrival of this highly experienced team, the moment of first ore extraction is getting closer. Mining of ore will be highly significant for us, our host communities and for the Ethiopian mining industry.
We are very pleased with the partnership which we have developed with the IW Mining team which has overcome the inevitable hurdles which all mining companies face. We are ahead of schedule with fabrication of the processing plant which will be assembled at site in beginning of 2023, with gold production thereafter."
Key points
– One of the founders of IW Mining has arrived at site with a dedicated South African team with decades of experience in underground mining
– IW Mining has begun their work to recruit an Ethiopian team, which will grow progressively as the project advances through the various stages of mining
– Surface preparation to begin within days, leading to underground mine access development in December
Shipment of the equipment and consumables needed for underground mining is underway and expected to arrive soon.
Surface mining operations will begin within days using equipment already available, which will allow for preparation of three portals through which the incline shafts and winzes will be operated. Akobo Mining's mining consultants have completed a geotechnical study of the portal area to help plan the support needed for efficient and safe operation.
Before leaving South Africa, the mining team undertook training on the equipment which has been selected for the Segele underground operation
Follow us on twitter