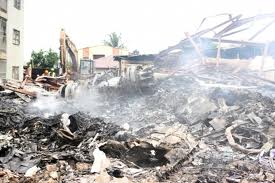 05 June 2012, Sweetcrude, LAGOS – MINISTER of Petroleum, Mrs Diezani Alison-Madueke and Group Managing Director of Oando Plc, Mr Wale Tinubu, have expressed shock at the death of Nigerian National Petroleum Corporation (NNPC) spokesman, Dr Levi Ajuonuma.
The minister, accompanied by Tinubu, visited family of Ajuonuma at his residence in Opebi, Lagos State, where she extolled the late Ajuonuma's uniqueness towards effective communication of the oil and gas industry.
Ajuonoma was part of the passengers of Dana Airline MD83 that crashed at Iju-Ishaga area of Lagos, on Sunday.
Said Alison-Madueke: "You all knew him very well, and how forthright he was, and how much he enjoyed his job, and how well he did it. Ajuonuma did not only speak for the NNPC alone, but for oil and gas sector, and the nation as a whole wherever he went."
Lamenting the loss of NNPC'S Group General Manager, Public Affairs, Wale Tinubu stated that "he is a very good man. He worked hard at the NNPC and oil and gas sector. All of us in the oil and gas sector regarded him so much."