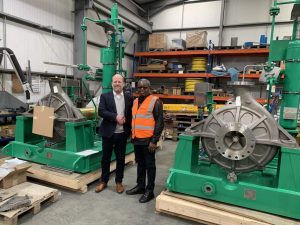 Lagos — Amarinth, a world-leading, net-zero designer and manufacturer of low lifecycle cost centrifugal pumps and associated equipment, has signed PE Energy Ltd, based in Nigeria, as a West African agent and Approved Certified Service Provider.
Amarinth manufactures primarily for the offshore and onshore oil and gas industries; nuclear and renewable energy generation; defence; desalination; process and industrial markets.
PE Energy Ltd is one of the most trusted and sought-after partners in the West African oil and gas industry with a team of internationally trained experts delivering solutions and application engineering expertise in upstream, midstream, and downstream processes.
Amarinth has developed a strong market presence for its pumps in Africa, spearheaded by its Regional Manager Ejiro Erivona, based in Nigeria. In this agreement, signed between Chris Ryan, Sales Director of Amarinth and Daere Akobo, Founder & Group Managing Director of PE Energy, during a visit by PE Energy to Amarinth's Head Office in Rendlesham, UK, PE Energy will deliver local marketing and sales support to the West African region and become an Approved Certified Service Provider following a training programme delivered by Amarinth.
The new partnership will enable oil and gas organisations in the region to benefit from local expertise and skills in both commissioning and maintaining Amarinth API 610 and API 685 horizontal, vertical and in-line pumps and also when replacing or refurbishing obsolete pumps from other OEMs, particularly where the original pump manufacturer has gone out of business. This will further boost In-Country Value, with oil and gas organisations being able to select high-quality, qualified local suppliers to fulfil these requirements.
PE Energy will leverage Amarinth's proven support in supplying dimensionally and hydraulically interchangeable pumps to replace obsolete OEM pumps with the minimum of disruption to plant, pipework and processes, and provide a range of Amarinth re-engineered spares that use modern computer aided technologies to cost effectively design new components that can not only replace obsolete OEM components, but deliver improved performance and efficiency, and extend the life of an existing pump.
Oliver Brigginshaw, Managing Director of Amarinth, commented: "We are delighted to sign this agreement with PE Energy which further expands our presence in the West African oil and gas market and enables us to deliver more local high-quality sales, marketing and maintenance support to organisations operating in this region, whether they require new Amarinth pumps, are looking to cost-effectively replace existing pumps, or seeking refurbishment or spares for other obsolete pumps."
Follow us on twitter